Table of Contents
---
Recollections of Service in the Bureau and RAAF

Foreword

Recollections—Mascot and Rose Bay—the Early Years

Sojourn in the Far East 1942

References

Endnotes

---
Index
Search
Help
Contact us

Recollections—Mascot and Rose Bay—the Early Years (continued)

A paper entitled "Notes on Aircraft Icing Conditions" by White and Hannay was published in Flying in NSW, the journal of the Royal Aero Club of NSW, in October 1939. This was the first article published in Australia on the subject. Data used consisted of over 100 cases of icing reported by pilots in NSW; data extracted from pilots' logs, and RAAF Richmond daily meteorological flights.

Arthur White and I each had a couple of familiarisation flights courtesy of airlines in these earliest days. I had a trip to Archerfield and back in an AOA Stinson and the pilots were the late Keith Virtue and the late Jason Hassard. Captain Virtue was a well known senior pilot who grew up near Lismore NSW. On this particular flight I was able to observe cumulonimbus clouds from a new angle.

Meanwhile the Empire Air Service to the United Kingdom from Sydney (Rose Bay) had begun. The first leg from Rose Bay to Singapore was provided by Qantas flying boats via Queensland ports, Groote Eylandt, Darwin and Sourabaya, Java. Also the flying boat service across the Tasman Sea to New Zealand had also started. So there was a new meteorological office at Rose Bay. The New Zealand terminal was Mechanics Bay near Auckland.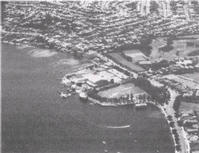 Although taken in 1972, most of the facilities in this picture of the Rose Bay terminal are thought to date from the golden age of the flying boats in the 1930s and early 1940s. (Photograph courtesy J.D. Payens.)
I was moved to the Rose Bay office in late 1939 or early 1940 (I cannot remember exactly) and joined Jack McDonough, Jack (J. V.) Maher and George Ainsworth, there. This small office in the Department of Civil Aviation (DCA) building at Rose Bay was under the supervision of Mr B. W. Newman, the Assistant Divisional Meteorologist at Sydney. (The Divisional Meteorologist for NSW was Mr D. J. Mares.) George Ainsworth was an interesting character. In his youth he had been the first meteorological observer at Macquarie Island, sent there in 1911 for two years as officer-in-charge of the party at that base, as part of the Mawson expedition about that time [3]. Later in his life he had been one of Mr W. M. Hughes' many private secretaries. I do not know how he came to be on the staff at Sydney (Rose Bay) in 1940.
Crossing the Tasman Sea by flying boat was at times hazardous due to weather. I remember there was a significant feature called the point of no return (PNR) where the aircraft was obliged to press on to the terminal whatever the conditions, as it was more economical on fuel to do that than to return to the take-off point.
---
People in Bright Sparcs - Hannay, Alexander Keith (Keith); Maher, John Vincent (Jack); Mares, David John; Mawson, Douglas; Newman, Bernard William (Bernie); White, Arthur Charles


Hannay, K. 1994 'Some Recollections of Service in the Commonwealth Bureau of Meteorology and RAAF Meteorological Service: Mascot and Rose Bay (1938 to 1940): Sojourn in the Far East (1942)', Metarch Papers, No. 6 July 1994, Bureau of Meteorology

© Online Edition Australian Science and Technology Heritage Centre and Bureau of Meteorology 2001
Published by Australian Science and Technology Heritage Centre, using the Web Academic Resource Publisher
http://www.austehc.unimelb.edu.au/fam/0346.html