Table of Contents
---
Recollections of Service in the Bureau and RAAF

Foreword

Recollections—Mascot and Rose Bay—the Early Years

Sojourn in the Far East 1942

References

Endnotes

---
Index
Search
Help
Contact us

Sojourn in the Far East 1942

Four members of the Royal Australian Air Force (RAAF) Meteorological Service were sent to the Far East in December 1941. Though their stay was short, they were the only meteorological staff of the RAAF to serve in an area under the overall command of the Royal Air Force (RAF) during World War II.

The RAAF had Hudson aircraft in two bomber squadrons (No 1 and 8) and Brewster Buffalo fighters (No 21 and 453 Squadrons). They were dispersed in various parts of Malaya and at the RAAF Base at Sembawang on Singapore Island. The RAF Singapore bases were at Tengah, Seletar and Kalang.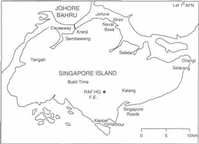 SINGAPORE ISLAND 1942 (Cman/R2937-1)
As far as meteorological services were concerned it was understood that at the outset the senior meteorological officer, RAAF, would be stationed in Singapore at RAAF headquarters and other officers would go one each to two other bases, Khota Baru in Kelantan and Sungei Patani in Kedah; and that a Warrant Officer would be concerned with the training and organisation of local staff, to provide observers and plotters. Of course these plans never came to be realised. The Malayan meteorological service was established at RAF headquarters in Sime Road, Singapore, under Wing Commander Grimes.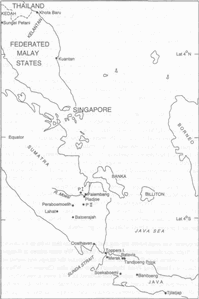 SINGAPORE, FEDERATED MALAY STATES (FMS) AND PART OF NETHERLANDS EAST INDIES (NEI) 1942. (Cman/R2937-2)
The leader of the RAAF meteorological party was Squadron Leader G. W. Mackey and the others were Flight Lieutenants D. H. Forder and A. K. Hannay (the writer); and Warrant Officer A. M. Murfett.
---
People in Bright Sparcs - Forder, Douglas Highmoor (Doug); Hannay, Alexander Keith (Keith); Mackey, George William; Murfett, A. M. (Andy)


Hannay, K. 1994 'Some Recollections of Service in the Commonwealth Bureau of Meteorology and RAAF Meteorological Service: Mascot and Rose Bay (1938 to 1940): Sojourn in the Far East (1942)', Metarch Papers, No. 6 July 1994, Bureau of Meteorology

© Online Edition Australian Science and Technology Heritage Centre and Bureau of Meteorology 2001
Published by Australian Science and Technology Heritage Centre, using the Web Academic Resource Publisher
http://www.austehc.unimelb.edu.au/fam/0349.html