Table of Contents
---
Glimpse of the RAAF Meteorological Service

Preface

Foreword

Introduction

Chapter 1: Growing Up

Chapter 2: Port Moresby Before Pearl Harbour
Sydney to Port Moresby by DH-86
First Impressions of Port Moresby
Meteorological Office Routine
Flight to Kokoda
Tropical Meteorology
John (Doc) Hogan
Setting up House
We Join the RAAF
A Contrast in Attitudes
Some RAAF History
RAAF No 10 Squadron
RAAF No 11 Squadron
The Catalina Story
Construction of the Seven-mile Airstrip and Reclamation Area
Meteorological Service for the RAAF
Unexpected Vistitors
Our State of Readiness
Our Domestic Situation
A Japanese Surprise Packet
What Had We Meteorologists Achieved?

Chapter 3: Port Moresby After Pearl Harbour

Chapter 4: Allied Air Force HQ and RAAF Command, Brisbane

Chapter 5: Japan Surrenders and We Are Demobilised

Epilogue

Acknowledgements

Appendix 1: References

Appendix 2: Milestones

Appendix 3: Papers Published in Tropical Weather Research Bulletins

Appendix 4: Radiosonde Observations 1941–46


---
Index
Search
Help
Contact us

Chapter 2: Port Moresby Before Pearl Harbour

In the last week of September 1940, newly married, and after a two day honeymoon, I climbed aboard a Carpenters Company De Havilland DH-86 at Mascot aerodrome Sydney, for the flight to Port Moresby. My wife, Audrey, was not with me. Trainee nurses were not permitted to marry before graduation and Audrey had three more months to complete her four-year training course at the Royal Alexandra Hospital for Children before becoming a qualified nurse.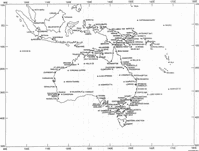 Figure 2 Place names relevant to the RAAF Meteorological Service and the war in the South-west Pacific Area.
I looked forward with great excitement to my second flight in an aeroplane. While on a geography excursion to Broken Hill as a student at the University of Sydney in the middle 1930s I had experienced the exhilaration of a brief joy-flight in a single-engine, open-cockpit Tiger Moth biplane accommodating the pilot and just one passenger, me. It was after this first flight that I had unsuccessfully endeavoured to join the Citizen Air Force.
The DH-86 in which I was to fly to Port Moresby had four engines rather than one and carried not one but about ten passengers. Like the Tiger Moth it was a biplane with vertical wooden struts between its long narrow wings which were braced by diagonal cross-wires for added strength. It had a cruising speed of about 150 knots and a range of about 750 miles (1200km). DH-86s were the first aeroplanes used by Qantas when it won the contract to fly the Sydney-Singapore leg of the London-Sydney Empire Airways route. The DH-86s were later replaced on this sector by Short Empire 'C' Class flying boats.
---
Gibbs, W. J. 1995 'A Glimpse of the RAAF Meteorological Service', Metarch Papers, No. 7 March 1995, Bureau of Meteorology

© Online Edition Australian Science and Technology Heritage Centre and Bureau of Meteorology 2001
Published by Australian Science and Technology Heritage Centre, using the Web Academic Resource Publisher
http://www.austehc.unimelb.edu.au/fam/0388.html