Table of Contents
---
Memories of the Bureau of Meteorology

Preface

Memories of the Bureau of Meteorology 1929–1946 by Allan Cornish
Foreword
Chapter 1: My Early Days in the Bureau
Chapter 2: Some New Vistas
Chapter 3: The RAAF Measures Upper Air Temperatures
Chapter 4: The Bureau Begins to Grow
Chapter 5: My Voyage in Discovery II
Chapter 6: The Birth of the Instrument Section
Chapter 7: Darwin Days
Chapter 8: I Leave the Bureau

History of Major Meteorological Installation in Australia from 1945 to 1981 by Reg Stout

Four Years in the RAAF Meteorological Service by Keith Swan

The Bureau of Meteorology in Papua New Guinea in the 1950s by Col Glendinning


---
Index
Search
Help
Contact us

Foreword (continued)
Shortly after the end of the war in the Pacific, I had the privilege of accompanying him as a member of a military mission to Japan late in 1945.

Allan's career in the Bureau finished because of a disagreement with H. N. Warren, Director of Meteorology. I have great respect for the contribution that both these men made to the growth of the Bureau and believe it was unfortunate that this disagreement resulted in the loss to the Bureau of Allan's talents.

The reminiscences of Allan Cornish which appear in this issue of Metarch Papers had their origin in the 1980s during meetings of the Frosterley Club, the formation of which has been described by John Lillywhite in Metarch Papers No 4, 1992. Allan had been a member of the Frosterley Club since 1976, the year of its formation. Knowing he had joined the Bureau of Meteorology in 1929, and being aware of the importance of collecting reminiscences of those who had served in the Bureau in earlier years, I urged him to write his memoirs of the Bureau and the RAAF Meteorological Service from 1929 to 1946. He showed no particular enthusiasm for such an undertaking, but tiring of my repeated urgings, agreed to have his reminiscences tape-recorded if I would interview him.

These interviews took place on two days in the latter part of 1992 at his home in Sandringham, a bayside suburb of Melbourne. They occupy two full tape cassettes and portion of a third.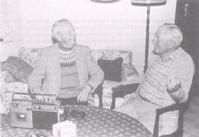 Bill Gibbs (left) recording reminiscences of Allan Cornish (right) at the latter's home, Sandringham, Victoria, late 1992.
John Zillman, my successor as Director of Meteorology, had encouraged the collection of reminiscences and approved their publication in a series of Metarch Papers which John gave me the privilege of editing as a voluntary activity in my retirement.
The task of transcribing the tape recordings was not easy. Special equipment for playback of tapes for transcription had been rendered redundant by the widespread use of personal computers in the Bureau. It took many months to find a solution of this problem and finally Ms Esther Amott, of the Bureau's Public Affairs Section, undertook the labourious task, using a small hand-operated tape player.
---
People in Bright Sparcs - Cornish, Allan William; Gibbs, William James (Bill); Lillywhite, John Wilson; Warren, Herbert Norman; Zillman, John William


Cornish, A., Stout, R., Swan, K and Glendinning, C. 1996 'Memories of the Bureau of Meteorology', Metarch Papers, No. 8 February 1996, Bureau of Meteorology

© Online Edition Australian Science and Technology Heritage Centre and Bureau of Meteorology 2001
Published by Australian Science and Technology Heritage Centre, using the Web Academic Resource Publisher
http://www.austehc.unimelb.edu.au/fam/0493.html