Table of Contents
---
Memories of the Bureau of Meteorology

Preface

Memories of the Bureau of Meteorology 1929–1946 by Allan Cornish

History of Major Meteorological Installation in Australia from 1945 to 1981 by Reg Stout

Four Years in the RAAF Meteorological Service by Keith Swan

The Bureau of Meteorology in Papua New Guinea in the 1950s by Col Glendinning
Foreword
Introduction
Brief History and Geography
Station Operations
Air Transport
The Port Moresby Office
Housing for Bureau Staff, Port Moresby
Staff Members and Their Families
Local Transport
Education
Entertaining, Sport and Lifestyle
Shopping Facilities
Malaria
Native Servants
Communication with Native Servants
Meteorology
Forecasting Problems in Port Moresby
Other Comments


---
Index
Search
Help
Contact us

Staff Members and Their Families
The staff of Port Moresby meteorological office were all married men who with their families occupied the houses in Met row. I relieved Bill Steele; the Stehn, Gotley, Lawrence, Winters, Buchanan, Latham, Bott, Lloyd and Baird families were all neighbours on Met row at various times.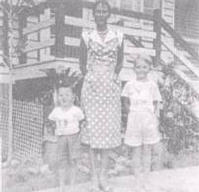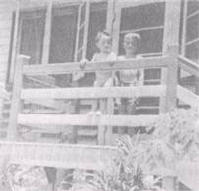 In front of No 6 Met. house. Upper Port Road, Port Moresby; (left) Shirley Glendinning with sons Bruce and Douglas, 1956; (right) Bruce and Douglas Glendinning, 1957.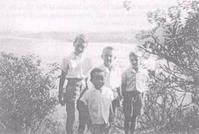 Glendinning, Latham and Lawrence family members, 1958.
Local Transport
Transport was provided by DCA and the rosters were tailored to enable most Met staff to utilise this service. The Bureau office vehicle, maintained by DCA, was used to travel to the airport and return home by the observer rostered to do the 2100 hours balloon flight and synoptic observation.

The Administration operated a bus service for both European and native people, and several taxi and hire car companies were operating in Port Moresby.
Education
There were two primary schools, two church primary schools and several pre-schools in Port Moresby. Mission and Administration schools in the area catered for native children. When children advanced to secondary school standard they were sent to Australia for further education. The Administration helped to defray the costs of students attending secondary schools in Australia, including a specific allowance for travel each year.

A native teaching college in Sogeri educated native boys to Australian leaving certificate standard and trained them as teachers. The native girls were not included in this training, but it was recognised that this was an iniquitous situation and plans were being formulated to educate native girls to a similar standard.

Mission schools were scattered throughout the Territory, and there were approximately eight missionary societies represented in Papua and New Guinea. The missions provided schooling and religious instruction to native children, and also provided other assistance to the native people.
---
People in Bright Sparcs - Glendinning, Colin (Col); Lloyd, Stephen Henry (Steve)


Cornish, A., Stout, R., Swan, K and Glendinning, C. 1996 'Memories of the Bureau of Meteorology', Metarch Papers, No. 8 February 1996, Bureau of Meteorology

© Online Edition Australian Science and Technology Heritage Centre and Bureau of Meteorology 2001
Published by Australian Science and Technology Heritage Centre, using the Web Academic Resource Publisher
http://www.austehc.unimelb.edu.au/fam/0587.html