Table of Contents
---
Memories of the Bureau of Meteorology

Preface

Memories of the Bureau of Meteorology 1929–1946 by Allan Cornish

History of Major Meteorological Installation in Australia from 1945 to 1981 by Reg Stout

Four Years in the RAAF Meteorological Service by Keith Swan

The Bureau of Meteorology in Papua New Guinea in the 1950s by Col Glendinning
Foreword
Introduction
Brief History and Geography
Station Operations
Air Transport
The Port Moresby Office
Housing for Bureau Staff, Port Moresby
Staff Members and Their Families
Local Transport
Education
Entertaining, Sport and Lifestyle
Shopping Facilities
Malaria
Native Servants
Communication with Native Servants
Meteorology
Forecasting Problems in Port Moresby
Other Comments


---
Index
Search
Help
Contact us

Malaria
It was claimed that the town area of Port Moresby was cleared of malaria bearing mosquitoes, and the area was kept in that condition by continual spraying, but many Europeans used malaria suppressives such as Nivaquin, Camoquin and Paludrin. Most of the Met staff took this wise precaution because Jackson's was situated in a swampy area.
Native Servants
Native servants were employed according to an Administration ordinance that specified a cash wage plus accommodation, clothing, medical attention and food in the form of a ration. It was illegal to pay the servants cash in lieu of rations unless the District Office had granted permission for this exemption. Methylated spirits for lighting was sold to natives in possession of a permit. It was an offence to sell or present alcohol to natives, or for natives to consume alcohol.

Natives were not permitted to gamble, but a card game, aptly named Lucky, was a popular pastime among some of the houseboys. It was not unusual to observe a houseboy resplendent in Casben walk shorts, fashion shirt and wearing an expensive wrist watch, and in possession of a relatively new bicycle. A short time later, the same houseboy would be seen clothed in tattered trousers and shirt, and not in possession of the wrist watch or the bicycle. The reason for these gains and losses would be given to an inquirer, reluctantly, as the game of Lucky.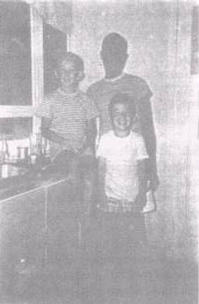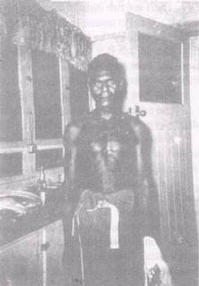 Houseboys from Mumeng, New Guinea; (left) Carpi with Douglas and Bruce Glendinning, 1959; (right) Mar, 1959.
---
People in Bright Sparcs - Glendinning, Colin (Col)


Cornish, A., Stout, R., Swan, K and Glendinning, C. 1996 'Memories of the Bureau of Meteorology', Metarch Papers, No. 8 February 1996, Bureau of Meteorology

© Online Edition Australian Science and Technology Heritage Centre and Bureau of Meteorology 2001
Published by Australian Science and Technology Heritage Centre, using the Web Academic Resource Publisher
http://www.austehc.unimelb.edu.au/fam/0589.html