Table of Contents
---
Memories of the Bureau, 1946 to 1962

Foreword

Terminology

Prologue

Preface

Chapter 1: The Warren Years, 1946 to 1950

Chapter 2: International Meteorology

Chapter 3: The Timcke Years, 1950 to 1955

Chapter 4: A Year at the Massachusetts Institute of Technology

Chapter 5: The Dwyer Years, 1955 to 1962

Chapter 6: A Springboard for the Future
My Springboard
Proposal for More Staff
Efforts to Improve Scientific Status of the Bureau
Gibbs-Priestley-White Prospectus
Successes and Struggles with Ministers and Permanent Heads
Submission to Royal Commission on Government Administration
The Committee of Inquiry
Achievements 1962 to 1978

Appendix 1: References

Appendix 2: Reports, Papers, Manuscripts

Appendix 3: Milestones

Appendix 4: Acknowledgements

Appendix 5: Summary by H. N. Warren of the Operation of the Meteorological Section of Allied Air Headquarters, Brisbane, 1942–45

Endnotes

---
Index
Search
Help
Contact us

Achievements 1962 to 1978 (continued)
The long hours spent working in the Bureau and the many overseas visits I made from 1962 to 1978 left little time for other pursuits. Our family had increased with the birth of another daughter, Amanda, and I spent what spare time I had with my wife Audrey, daughters Jennifer, Judie and Amanda and son Gregory. My principal relaxation in the 1960s and 1970s was building a holiday house on Phillip Island. There was no other spare time to participate in sporting activity. It was not until the late 1970s that I became a golfer, having left it far too late to reach any degree of proficiency in a game which I thoroughly enjoyed.

In my retirement I have admired the work of my successor Dr John Zillman, who has brought the Bureau to a state of excellence which is in the forefront of the meteorological services of the world. He was fortunate to begin his term as Director with a highly supportive Permanent Head, Dr John Parrands, who administered his department with the clear understanding that under the terms of the Meteorology Act, 1955, the Director of Meteorology has authority to manage the Bureau with policy guidance from the Minister and Permanent Head. I was similarly fortunate to begin my term as Director with Dick Kingsland as Permanent Head and was lucky to have John Farrands in that position when I retired.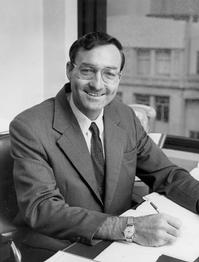 Figure 50 Ross Maine was one of the pioneers in the development of a Numerical Weather Prediction System after the Bureau acquired its IBM computer in 1968.
John Zillman has achieved the distinction of being the first southern hemisphere meteorologist to be elected to the prestigious position of President of WMO. It is a richly deserved recognition of the contribution he has made to international meteorology.
I believe that John, like me, would acknowledge that achievements of the Bureau in the last 35 years owe much to the efforts of the very special family which staffed the Bureau in the years 1946 to 1962.
---
People in Bright Sparcs - Farrands, John Laws; Kingsland, Richard; Zillman, John William


Gibbs, W. J. 1999 'A Very Special Family: Memories of the Bureau of Meteorology 1946 to 1962', Metarch Papers, No. 13 May 1999, Bureau of Meteorology

© Online Edition Australian Science and Technology Heritage Centre and Bureau of Meteorology 2001
Published by Australian Science and Technology Heritage Centre, using the Web Academic Resource Publisher
http://www.austehc.unimelb.edu.au/fam/1158.html