Table of Contents
---
Meteorological Work in Australia

Meteorological Work in Australia: A Review

Map No. 1—February 18th, 1890

Map No.2—January 14th, 1891

Map No.3—March 12th, 1891

Map No. 4, February 5th. 1890, and Map No .5, May 27th, 1893

Map No. 6, June 22nd, 1893

Map No. 7, July 14th, 1893

Seasonal Forecasts

Droughts

Conclusion


---
Index
Search
Help
Contact us

Map No.3—March 12th, 1891

Is a very important type. It shows a tropical cyclonic "low" approaching the east coast between Sydney and Brisbane from the north-east—a not infrequent occurrence in the summer. A "high" lies to the south-east, with compact gradients, the maximum pressure, about 30.4, embracing the whole of New Zealand.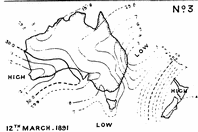 Map No.3—óMarch 12th, 1891
Another "high" is seen pushing its way over Western Australia, whilst a "low" lies to the south of Victoria.
This map and No. 2 deserve careful study, as the conditions they indicate affect largely the weather on the east coast of Queensland and New South Wales generally, bringing heavy floodrains in both colonies, the rains frequently extending well into the interior, occasionally reaching the north-eastern districts of South Australia.
In this instance the weather was stormy, with heavy seas and strong southerly gales along the New South Wales and South Queensland coasts; fine inland and throughout all southern, central, and western Australia, with some cloud along the coast between Kangaroo Island and the Leeuwin.
The first indications we had of the approach of this disturbance was on the morning of the 7th, when the barometer on the Queensland coast commenced to fall, with freshening south and south-east winds. By the morning of the 13th it had become merged into the low pressure waves shown off Tasmania, and passed south of New Zealand during the following night. The weather, as it progressed, was very coarse and bad on the east coast, with heavy rains: but the rains were confined to the coastal districts, and the reports on the 14th show heavy weather to the south of New Zealand. with south-west gales. Two days after this, the "high" shown on the map of the 12th to the westward of Perth had moved eastward and covered the whole continent, with its centre (30.45) off Kangaroo Island (S.A.).
---
People in Bright Sparcs - Todd, Charles


Todd, C. 1893 'Meteorological Work in Australia: A Review' Australasian Association for the Advancement of Science vol. v, 1893, pp. 246-270.

© Online Edition Australian Science and Technology Heritage Centre and Bureau of Meteorology 2001
Published by Australian Science and Technology Heritage Centre, using the Web Academic Resource Publisher
http://www.austehc.unimelb.edu.au/fam/1561.html