Table of Contents
---
Early Scientific Journals in Victoria

Abstract

Introduction

Dates of Publication
Summary
Details

Discussion

Acknowledgements

References

Endnotes

---
Index
Search
Help
Contact us

Dates of Publication
Summary
Table 1 summarises information concerning the volume and part numbers and the dates of publication of each, for all Transactions under consideration. Page numbers given are for the actual "transactions", i.e. the papers read at meetings, as distinct from the business "proceedings" which have been excluded from the table. Unfortunately it has not been possible to prove conclusively which of the critical items A and C appeared first as the accumulated evidence shows that they were published within a few days of each other or even on the same day. The author's opinion, enlarged upon under "Discussion", is that item C has priority of publication.

Evidence supporting the dates presented in the table is detailed below.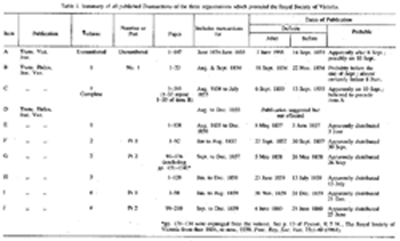 Table 1 Summary of all published Transactions of the three organisations which preceded the Royal Society of Victoria.
---
People in Bright Sparcs - Mueller, Dr Ferdinand


Aston, Helen 1984, 'Publication Dates of Early Scientific Journals in Victoria', Muelleria, vol. 5, no. 4, pp. 281-288.

© Copyright of Australian Science and Technology Heritage Centre and The Royal Society of Victoria 2001
Published by Australian Science and Technology Heritage Centre, using the Web Academic Resource Publisher
http://www.austehc.unimelb.edu.au/smv/094.html