Home
---
Title Page
Imprint
About the Project
Table of Contents
Presidents
Contributors
---
Index
Search
Help
Contact us

About the Project

Since its foundation in 1854 the Royal Society of Victoria has played a leading role in supporting science and technology in Victoria, through its membership and publication of its Proceedings, and particularly through the staunch support of its presidents.

Science and the making of Victoria republishes the inaugural speeches of the Society's first presidents, visionaries who in their public life set the foundations for the Society and for the broad and deep scientific infrastructure that supports modern Victoria. R. T. M. Pescott's history of the Society reviewing the years 1854 to 1959 has been republished from the Proceedings, while the rich resources held within the Society's records have revealed further writings of past presidents, such as Hills, Leeper and Garran, as they reflect on the role of the Society and science in Victoria.

Republication of these resources fills a notable gap in the publicly available information about the recent and deep history of science in Victoria and makes it available to an ever increasing audience through the Web. Illustrated Bright Sparcs entries for each president, along with information on archival and published information on them, complement the online publication, while the online guide to the records of the Society (now in the La Trobe Australian Manuscripts Collection, State Library of Victoria) provides an alternative gateway to the story of science and the making of Victoria.
Acknowledgements
I would like to acknowledge the contributions of the following people in the production of this online resource:
John Lovering, Elisabeth Garran, Laurie Hammond, Helen Aston, Freda and Viv Martin, Gerard Hayes, Jock Murphy
The Royal Society of Victoria, in particular Camilla van Megen and Neil Archbold
Austehc staff - Gavan McCarthy, Joanne Evans, Robin Stephens, Rosanne Walker
Processors - Ailie Smith
This project has been made possible through a grant from the Victorian Government through the Centenary of Federation and the Community Support Fund.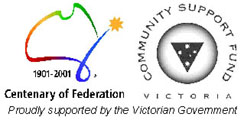 Helen Morgan, Editor
Australian Science and Technology Heritage Centre
May 2001
---

© Copyright of Australian Science and Technology Heritage Centre and The Royal Society of Victoria 2001
Published by Australian Science and Technology Heritage Centre, using the Web Academic Resource Publisher
http://www.austehc.unimelb.edu.au/smv/about.html