Table of Contents
---
Chapter 5
I
1788 - State Of The Art In Textile Technology
II
Australian Textiles - The Early Days
III
Australian Textiles - The 20th Century
IV
Australian Textiles - To Date
V
Acknowledgements
References
---
Index
Search
Help
Contact us

Chapter 5 - Australian Innovation in Textile Technology (continued)

The two principal characteristics of these manufacturing processes which have changed over the time period are productivity and quality, while a third major change has been in the variety and range of textiles produced. The early convicts were allocated meagre supplies of clothing and the yarns in these garments would almost certainly have been hand-spun from wool, linen or cotton, dyed by natural dyes, and woven on looms powered manually, for the seeds of the industrial revolution had only just been sown at the time of colonization.

In weaving. Englishman, John Kay, had introduced his flying shuttle in 1733, a development that revolutionized the woollen and cotton industries multiplying their output several times. This had put pressure on the supply of yarns, at that time produced on one-thread hand-operated spinning wheels, not unlike those used by craftspeople today. The pressure was relieved somewhat in 1764 when Hargreaves invented the spinning jenny -the first version with eight spindles -but this initially was powered manually or by water. In 1769, Richard Arkwright had invented a wool spinning machine, and in England this was converted to steam power two years after colonization. In 1785, Dr. Edmond Cartwright took the first patent for a powered weaving loom; his invention of a wool-combing machine followed in 1789. Neither of these latter machines proved practical but they did help to identify the problems inherent in the mechanization of these processes. It was to be 20 and 50 years respectively before powered, mechanized weaving and combing machines were available.

The principles on which the first textile 'machines' were based are described briefly below. It suffices at this stage to note that to manufacture one kilogram of yarn would have required of the order of 110 hours by hand spinning wheel, 60 hours by the manually operated spinning jenny, 9 hours by the later, mechanized versions of the jenny (about 1820), and about 36 minutes on a modern spinning machine[2] (Fig. 2). Similarly, 100 metres of cloth would have taken of the order of 500 hours by hand loom, 100 hours by fly shuttle, and less than one hour on the latest weaving machines.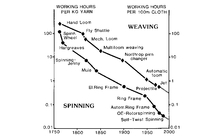 2 Reduction of human labour in spinning and weaving in the course of time
As well as these productivity improvements, the quality of both the yarn and the cloth is nowadays immeasurably better. Because of improved control and new techniques in preparation of the fibres before spinning, as well as improved control in spinning itself, the uniformity and strength of the yarn produced are so much better, as are the appearance, uniformity and strength of the fabric produced from the yarn. Furthermore, whereas natural dyestuffs that might fade or wash out readily were used at the time of colonization, today's fabrics are coloured by synthetic dyes of generally excellent stability to light fading, washing, and a whole host of man-made and other environmental effects not encountered at the beginning of the 19th Century, e.g. dyes resistant to fading by chlorine baths are used for swimming suits. Synthetic dyestuffs, in fact, did not begin to appear on the market until the 1850s, and, while textile manufacturing can be said to have been the catalyst for the industrial revolution, so dyestuff manufacture was the precursor of today's modern chemical industry, which, of course, also eventually led to the development of synthetic fibres such as nylon and polyester.
---

© 1988 Print Edition page 254, Online Edition 2000
Published by Australian Science and Technology Heritage Centre, using the Web Academic Resource Publisher
http://www.austehc.unimelb.edu.au/tia/265.html