Table of Contents
---
Chapter 6

I Construction During The Settlement Years

II The Use Of Timber As A Structural Material

III Structural Steel

IV Concrete Technology

V Housing

VI Industrialised Pre-cast Concrete Housing

VII Ports And Harbours
i Containerisation
ii Mineral Ports
iii Oil and Gas Ports
iv Other Bulk Cargoes
v Dredging

VIII Roads

IX Heavy Foundations

X Bridges

XI Sewerage

XII Water Engineering

XIII Railways

XIV Major Buildings

XV Airports

XVI Thermal Power Stations

XVII Materials Handling

XVIII Oil Industry

XIX The Snowy Mountains Scheme

XX The Sydney Opera House

XXI The Sydney Harbour Bridge

XXII Hamersley Iron

XXIII North West Shelf

Sources and References

---
Index
Search
Help
Contact us

Oil and Gas Ports
The discovery between 1961 and 1968 of proven commercial oil and natural gas fields such as Moonie, Gidgealpa, Barrow Island, Moomba and the Bass Strait fields of Barracouta, Marlin and Kingfish made Australia 70 per cent self-sufficient in oil, whilst natural gas was also available in large quantities for piping to capital cities. Following the discovery of the Bass Strait oil fields a distribution point was required and Westernport, with its natural deep channels, safe anchorages and undeveloped land, as well as the presence of an existing refinery was the logical choice for such a terminal.

The Long Island Liquids pier was constructed to cater for both LPG tankers as well as crude oil tankers up to 100,000 d.w.t. The most recently constructed liquids terminal is at Port Bonython on the western shore of Spencer Gulf, South Australia (Fig. 21). This serves the central Australian Cooper Basin oil fields. The jetty, which was completed in 1984, is 2.4 kilometres long and it has been designed to handle crude oil tankers up to 110,000 d.w.t. and LPG tankers up to 45,000 d.w.t.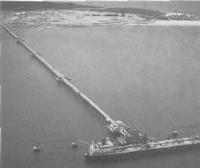 21 Port Bonython Liquids Terminal
In keeping with current regulations for bulk liquids terminals the jetty has the most up to date fire protection and oil spill control systems, emergency shut down and surge relief systems, shore tankage for ships' ballast and navigation aids.
---
People in Bright Sparcs - Wallace, J. M.



© 1988 Print Edition pages 341 - 342, Online Edition 2000
Published by Australian Science and Technology Heritage Centre, using the Web Academic Resource Publisher
http://www.austehc.unimelb.edu.au/tia/343.html