Table of Contents
---
Chapter 6

I Construction During The Settlement Years

II The Use Of Timber As A Structural Material

III Structural Steel

IV Concrete Technology

V Housing

VI Industrialised Pre-cast Concrete Housing

VII Ports And Harbours

VIII Roads

IX Heavy Foundations

X Bridges

XI Sewerage

XII Water Engineering

XIII Railways

XIV Major Buildings

XV Airports

XVI Thermal Power Stations

XVII Materials Handling
i For grain:
ii For salt:
iii For sugar
iv For iron ore
v For coal
vi For bauxite:
vii For alumina:
viii For cement:

XVIII Oil Industry

XIX The Snowy Mountains Scheme

XX The Sydney Opera House

XXI The Sydney Harbour Bridge

XXII Hamersley Iron

XXIII North West Shelf

Sources and References

---
Index
Search
Help
Contact us

For iron ore
Australia operates two of the largest iron ore mining operations in the world: Hamersley (see page 119) (exporting via Dampier Port), and Mount Newman (exporting via Port Hedland). Capacities in various sectors for either operation are among the highest anywhere. These include: trains from mine to port of 220 cars and 27,000 tonnes trailing load; unloaders dumping three 1,200 tonne railcars simultaneously at 10 500 t/h; belt capacities up to 12,000 t/h, with matching stacker/reclaimer systems; shiploading at 8,000 t/h; ship loads up to 200,000 tonnes. All with efficient dust suppression and collection, and with weighing, measuring and control instrumentation feeding sophisticated computers operated so as to optimise the management of the plant.

The design and construction of the Ore Handling Plant No. 2 at Mt. Newman won an Association of Construction Engineers, Australia (A.C.E.A.) Excellence Award in 1976. The project, which was designed by Crooks Michell Peacock Stewart Pty. Limited, is illustrated in Fig. 68. It represents a high technical achievement in a harsh, hot, dry climate some 1,000 km north-east of Perth.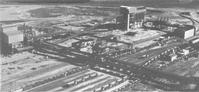 68 Ore Handling Plant at Mt. Newman
Unique problems of terrain, tide or weather have often called forth innovative engineering solutions. For its time (mid-1960s) the Savage River Mine in Tasmania with its iron ore slurry line, loading berth and loaders produced most advanced concepts, and constructed and operated them successfully.
---
Organisations in Australian Science at Work - Association of Consulting Engineers Australia (A.C.E.A.); Crooks Michel Peacock Stewart Pty Ltd; Hamersley Iron; Savage River Mine, Tas.

People in Bright Sparcs - Peacock, E. E.



© 1988 Print Edition pages 410 - 411, Online Edition 2000
Published by Australian Science and Technology Heritage Centre, using the Web Academic Resource Publisher
http://www.austehc.unimelb.edu.au/tia/408.html