Table of Contents
---
Chapter 6

I Construction During The Settlement Years

II The Use Of Timber As A Structural Material

III Structural Steel

IV Concrete Technology

V Housing

VI Industrialised Pre-cast Concrete Housing

VII Ports And Harbours

VIII Roads

IX Heavy Foundations

X Bridges

XI Sewerage

XII Water Engineering

XIII Railways

XIV Major Buildings

XV Airports

XVI Thermal Power Stations

XVII Materials Handling
i For grain:
ii For salt:
iii For sugar
iv For iron ore
v For coal
vi For bauxite:
vii For alumina:
viii For cement:

XVIII Oil Industry

XIX The Snowy Mountains Scheme

XX The Sydney Opera House

XXI The Sydney Harbour Bridge

XXII Hamersley Iron

XXIII North West Shelf

Sources and References

---
Index
Search
Help
Contact us

For coal
Since coal was first discovered in 1794 near Catherine Hill Bay, south of Newcastle in New South Wales, the industry has developed to become a major export earner for Australia. Not only has the industry served to supply our own needs, first for domestic purposes such as home cooking fires, leading on to transportation users, manufacturing, and power generation, it has also become an export earner. From such humble and modest beginnings, it has been necessary to develop sophisticated methods of handling large tonnages of both brown and black coal.

New South Wales and southern Queensland support two significant underground coal mining field operations. From the pick and shovel coal mining methods that also employed pit ponies to haul coal from the face to the haulage shaft or surface adit, we come today to methods that use large underground and overland conveying systems, complex rail handling, storage, reclaiming and shiploading facilities that feed coal at the rate of thousands of tonnes per hour into ships' holds. For the year of 1984 our black coal production reached a record of 140.5 million tonnes, of which 75.8 million tonnes was exported. The FOB value of the produced coal was in the order of 3,500 million Australian dollars.

A typical project is the Dalrymple Bay, Queensland (Fig. 69) loading facility for which the consulting firm of MacDonald Wagner & Priddle Pty. Ltd. won an A.C.E.A. Award of Special Merit for Project Management in 1984. The terminal, which has a rated capacity of 15 mta is currently exporting coal at the rate of 16.8 mta. It cost $250 million. The loading head is located 5 km out to sea and can accommodate vessels of up to 200,000 D.W.T. Fig. 70 illustrates a sophisticated gantry traveller, the principal item of construction equipment, which at best completed a structural span in one ten-hour shift. It was conceived, designed and operated by the Holland-Christiani and Neilsen Joint-Venture.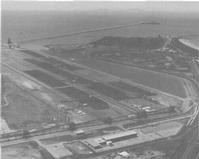 69 Dalrymple Bay Coal Loading Facility, Queensland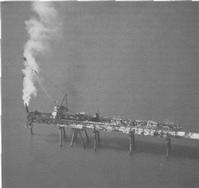 70 Sophisticated Gantry Traveller at Dalrymple Bay, Queensland
---
Organisations in Australian Science at Work - Association of Consulting Engineers Australia (A.C.E.A.); MacDonald Wagner & Priddle Pty Ltd

People in Bright Sparcs - Peacock, E. E.



© 1988 Print Edition page 411, Online Edition 2000
Published by Australian Science and Technology Heritage Centre, using the Web Academic Resource Publisher
http://www.austehc.unimelb.edu.au/tia/409.html