Table of Contents
---
Chapter 10

I 1. Introduction

II 2. The Role Of Technology

III 3. Some Highlights Of Australian Minerals Technology
i Gold
ii Copper
iii Lead-zinc-silver
iv Technology in iron ore mining
v Iron and steel technology
vi Nickel
vii Mineral sands
viii Bauxite, alumina, aluminium

IV 4. Other Technological Achievements (in brief)

V 5. Export Of Technology

VI 6. Education And Research

VII 7. The Scientific Societies

VIII 8. Conclusion

References

---
Index
Search
Help
Contact us

Gold (continued)
The possibilities of thiourea and other alternative solvents are attracting studies in Australia and overseas, especially for ores containing copper or other elements inimical to cyanidation.

Although the chemistry of cyanidation is basically simple the mechanism of dissolution and precipitation under plant conditions and the function of oxygen are factors calling for constant study. In this respect the researches of P. F. Thompson in Melbourne University laboratories in the 1930s represent an original contribution in that the dissolution of gold in the presence of cyanide and oxygen was revealed as an electrochemical process essentially similar to corrosion.

Side by side with the advanced metallurgical practices on the goldfields of Western Australia and Queensland in particular, but applying also to all the major Australian producing fields, advanced practices have been developed in the kindred divisions of mining and exploration. On the underground mining side, for example, the Western Australian gold and nickel producers have applied the whole range of contemporary techniques in shaft sinking, drilling, explosives, ore breaking and transport, ground support and filling, etc. Ventilation has received special attention because of the characteristically high rock temperatures and siliceous problems, and increasing use of diesel transport and trackless haulage. The possibilities of controlled refrigerated atmosphere in cab fitted equipment are under study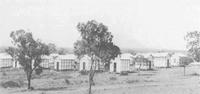 4 Single men's quarters at Mount Coolon mine, 1932 (courtesy Western Mining Corporation)
Monitoring devices and computer controls are common throughout all phases of exploration, development and processing. A particular instance of computer technology at a sophisticated level is the new Boddington mine where the ore grade averages less than 2 g gold per tonne. Basically the system involves feeding analytical data from sample drillholes into a computer with colour graphics screen which shows in 3D modelling the assay values along the drillhole, with great benefit in mine planning and scheduling and ore reserves estimation.
In respect to exploration Western Australia is eminently a subject for large scale aerial and satellite studies, and considerable success has been achieved and greater potential promised as a result of several years' experience during which some revolutionary concepts have been developed, for example, the use of thermal infrared sensing with digital enhancement of satellite data to delineate tectonic structures and mineralogical alteration zones. The latest developments indicate that the infrared system can penetrate several metres below the surface; this is a factor of major importance in the very extensive areas of the WA mineral fields which are covered by shallow soil and alluvium.
In addition to the mining and metallurgical aspects, and vital to the industry, mention must be made of some remarkable feats in bringing the Western Australian fields into production in the first instance and in reviving them after several recurring periods of economic difficulty. The problems of water and fuel supplies to the remote and arid mining centres were indeed formidable. Water was so scarce and expensive that practices such as learning by prospectors and dry-blowing by small operators were frequent. The problem was ameliorated by the 700 kilometre pipe line from Perth to Kalgoorlie, which was completed in 1903; subsequently the line was extended 200 kilometres south to Norseman and a similar distance north to Leonora. The initial scheme was acknowledged as one of the outstanding engineering achievements of the world.
---
People in Bright Sparcs - Thompson, P. F



© 1988 Print Edition pages 740 - 741, Online Edition 2000
Published by Australian Science and Technology Heritage Centre, using the Web Academic Resource Publisher
http://www.austehc.unimelb.edu.au/tia/706.html