Table of Contents
---
Chapter 13

I Colonial Origins

II First World War

III Between The World Wars

IV The Second World War
i Optical Munitions
ii Aircraft
iii Armour
iv Radar
v Tropic Proofing

V Post-second World War

VI After The Joint Project

VII Science And Decisions At The Top

VIII Armed Services Technology

IX New Tasks And Projects

X Transfer Of Research And Development

XI Acknowledgement

References

---
Index
Search
Help
Contact us

Armour
Australian development of a cruiser tank[25] was begun at the time that military supplies from Britain were cut-off. In the absence of a suitable model to copy, the Army issued its own specification, calling for a 25-30 ton vehicle, having a speed of 30 miles per hour and mounting a 2 pounder gun. A Section of the Directorate of Armoured Fighting Vehicles was created to manage the development. Restricted facilities for rolling heavy armour-plate led to an adventurous decision to cast the hull in one piece from chrome-silicon-manganese steel. Supported by the flaw detection techniques developed by MSL, this technology produced an effective and economical result.

Finding a suitable engine for the tank caused some difficulty, compounded by the absence of a heavy automotive industry. Heavy Diesel engines were unavailable and such unusual alternatives as a Wasp single-row radial aircraft engine and a hybrid consisting of three banks of Cadillac cylinders mounted on a common crankcase in Y-formation (proposed by Professor A. F. Burstall) were considered. These, with their transmissions, were evaluated and the latter chosen.

First automotive trials of the AC-1 version, started in January 1942, were most successful, but gunnery trials were less so because the 2 pounder was obsolescent. As the need for tanks was urgent, however, production was instituted without proceeding through the pilot model stage and by June 1943 fifty-eight units had been produced and passed.

In the meantime an AC-3 version, mounting a 25 pounder gun, then the most powerful armament of any Allied tank, was under development, with a re-designed Cadillac engine system. A prototype appeared in February 1943 but did not go into production. By mid-year quantities of American General Grant tanks were arriving in Australia and all tank manufacture was cancelled. The AC-1 tanks that had been produced were used for training purposes by the Army under the name of Sentinel.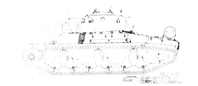 4 AC3 Tank
---
Organisations in Australian Science at Work - Australia. Army. Directorate of Armoured Fighting Vehicles; Munitions Supply Laboratories (M.S.L.)

People in Bright Sparcs - Burstall, Prof. A. F.



© 1988 Print Edition page 933, Online Edition 2000
Published by Australian Science and Technology Heritage Centre, using the Web Academic Resource Publisher
http://www.austehc.unimelb.edu.au/tia/913.html