Table of Contents
---
Chapter 13

I Colonial Origins

II First World War

III Between The World Wars

IV The Second World War

V Post-second World War
i The United Kingdom Australia Agreement
ii The ADSS
iii Decline of Imported Work
iv Background Research and Development of the Department of Supply
v Technology in the Armed Services

VI After The Joint Project

VII Science And Decisions At The Top

VIII Armed Services Technology

IX New Tasks And Projects

X Transfer Of Research And Development

XI Acknowledgement

References

---
Index
Search
Help
Contact us

The United Kingdom Australia Agreement
For bilateral activities, Australia's open spaces and climate offered a natural venue for investigations of long range weapons so its government agreed to provide the sites, and to participate in the developments with Britain on a co-operative basis. Lieut. General J. F. Evetts and Mr (now Dr) W. A. S. Butement located a base site about 400 km north of Adelaide with a potential range area extending generally north west. A joint project agreement was signed in 1946. This led to the creation of the Long Range Weapons Research Establishment (LRWE). (In later years this became the nucleus from which the great and wholly Australian Weapons Research Establishment, WRE, at Salisbury arose.)

Initially, the agreement provided for the United Kingdom to develop a series of guided missiles, and for Australia to develop the testing facilities and infrastructure. Also included in Australia's responsibilities was the development of unmanned target aircraft to be ultimately capable of supersonic speed. This project used the design facilities of the Government Aircraft Factory at Fisherman's Bend; under the direction of I. B. Fleming,[34] the successful JINDIVIK was produced, and eventually manufactured and exported. Other, less immediate projects of great importance were to be undertaken as the need arose. These are reported later.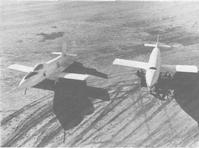 8 Jindivik
Increasing defence research activities pointed to the need for continuing review and policy advice to government. Dr A. P. Rowe was appointed as Defence Scientific Adviser, and became Chairman of the Defence Research and Development Policy Committee (later this was to be chaired by Sir Leslie Martin, and after reorganization by subsequent Chief Defence Scientists, H. A. Wills, Dr J. L. Farrands and Professor P. T. Fink).
---
Organisations in Australian Science at Work - Government Aircraft Factories; Long Range Weapons Establishment (L.R.W.E.); Weapons Research Establishment (W.R.E.)

People in Bright Sparcs - Butement, Dr W. A. S.; Evetts, Lt. Gen. J. F.; Farrands, Dr J. L.; Fink, Prof. P. T; Fleming, I. B.; Martin, Sir Leslie; Rowe, Dr A. P.



© 1988 Print Edition page 938, Online Edition 2000
Published by Australian Science and Technology Heritage Centre, using the Web Academic Resource Publisher
http://www.austehc.unimelb.edu.au/tia/918.html