Table of Contents
---
RAAF Meteorological Service

Foreword

Introduction

Chapter 1: The Weather Factor in Warfare
The Weather and Chemical Warfare
Weather Control

Chapter 2: Establishing and Developing the RAAF Directorate of Met. Services (D.Met.S)

Chapter 3: Recruiting and Training of Personnel

Chapter 4: Meteorology in Aviation

Chapter 5: The Met. Retreating

Chapter 6: The Met. Advancing

Chapter 7: The Met With the Army and the Navy

Chapter 8: Divisional Offices of the Bureau of Meteorology During the War

Chapter 9: Research and Instrumental Development

Chapter 10: The End, Aftermath, and Beyond

Appendix 1

Appendix 2

Appendix 3

Appendix 4

References

---
Index
Search
Help
Contact us

The Weather and Chemical Warfare (continued)
Lloyd went on:
'A number of the expert personnel in the Proserpine line-up were recruited from overseas, mainly from the Porton Downs Chemical Warfare Research Station at Salisbury, UK. They included Frank Pasquill (now Dr. Frank Pasquill, FRS, recently retired from the British Meteorological Service) who was in charge of the meteorological unit, Stan Mason and Stan Crawford (civilians). The RAAF Met. component was headed by Squadron-Leader Reg Taylor, others being Don Fifer, Ronald Appleby and yours truly. The Meteorological Assistants included Sam Flett, Frank Burke, Ron Baxter, Jack Anderson, Wally Waugh, Bart Fonwood and Ray Davis.'

1 was posted from Townsville to Innisfail, and still remember having to share sleeping accommodation with nine or ten civilians under very cramped conditions in the wooden cottage which constituted the unit's headquarters. My job consisted of taking frequent measurements of temperature, humidity and wind direction when gas was released in jungle sites. Wind direction was determined by the release of chlorosulphonic acid, which made a dense smoke and also burnt like blazes when it invariably spilled on one's gloved hands.'

'Most of the meteorological activity was concerned primarily with the influence of the various atmospheric elements mentioned by Don Fifer on the behaviour of air-borne gaseous and liquid particles under various conditions of terrain and vegetation. The field work was innovative, arduous; at times dangerous; sometimes conducted under simulated combat conditions, with real gas bombs dropped by a Beaufort unit based at Bowen. Several layers of impregnated safety clothing and gas masks were worn for lengthy periods during these bombing forays. Under the high temperature and humidity conditions of North Queensland, extreme bodily discomfort was the order of the day—or night!'

'Experiments conducted under less stringent conditions in the tropical rainforest around Innisfail were hampered by attacks of vast hordes of biting insects, particularly mosquitoes, against which the then popular repellents, such as citronella, were virtually useless.[11]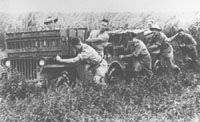 Figure 3 'Travelling' to an experimental site near lnnisfail, Queensland. RAAF Flight Lieutenant Steve Lloyd ('pusher') is fourth from the left.
---
People in Bright Sparcs - Lloyd, Stephen Henry (Steve)


Joyce, J. 1993 'The Story of the RAAF Meteorological Service', Metarch Papers, No. 5 October 1993, Bureau of Meteorology

© Online Edition Australian Science and Technology Heritage Centre and Bureau of Meteorology 2001
Published by Australian Science and Technology Heritage Centre, using the Web Academic Resource Publisher
http://www.austehc.unimelb.edu.au/fam/0217.html