Table of Contents
---
Memories of the Bureau of Meteorology

Preface

Memories of the Bureau of Meteorology 1929–1946 by Allan Cornish

History of Major Meteorological Installation in Australia from 1945 to 1981 by Reg Stout
Foreword
Major Installation Projects Involving Reg Stout

Four Years in the RAAF Meteorological Service by Keith Swan

The Bureau of Meteorology in Papua New Guinea in the 1950s by Col Glendinning


---
Index
Search
Help
Contact us

History of Major Meteorological Installation in Australia from 1945 to 1981 by Reg Stout (continued)

The RAAF officer in the enlistment section in Flinders Street, Melbourne, was not happy about my proposal to join the RAAF, because as a tool maker I was in a reserved occupation, but I dug my toes in and insisted that I should undertake electronic courses. He finally agreed to give me an aptitude test which I passed. I commenced a RAAF course for Wireless Mechanics at the Melbourne Technical College. I decided to live in at the RAAF quarters in the Exhibition Building so I could study each evening with groups of other lads on the wireless course.

At that time I developed an interest in ballroom dancing and formed a firm relationship with Lorna, whom I married after the war in July 1946. We acquired a farmlet at Warrandyte, an outer suburb of Melbourne. Without Lorna's support I would have never been able to carry out the 160 major installations throughout Australia and neighbouring islands for which I was responsible during and after the war.

Lorna looked after the cows, calves, lambs and vegetables; not to mention the four, and later five, children. When I returned home after absences lasting on an average of four to five weeks, everything at home was in good shape. She saw to it that I was never worried by what was happening on the farm. Her letters were always bright and happy.

Let me now return to my story in the RAAF. After completing the wireless course in Melbourne I was posted to Sydney for radar training. Having successfully passed these courses I was posted to Milingimbi Island in the Northern Territory. There I developed sandfly poisoning and was flown to Darwin where I remained in hospital for five weeks for treatment.

I was then posted to Darwin and was responsible for meteorological radio gear and worked with the Americans on their Friez radiosonde equipment. Later I was engaged in converting the gun laying radar at Lee Point so it could be used for meteorological wind finding.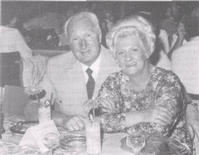 Reg Stout and wife Lorna enjoying retirement on Queensland's Gold Coast.
---
People in Bright Sparcs - Stout, Reginald William (Reg)


Cornish, A., Stout, R., Swan, K and Glendinning, C. 1996 'Memories of the Bureau of Meteorology', Metarch Papers, No. 8 February 1996, Bureau of Meteorology

© Online Edition Australian Science and Technology Heritage Centre and Bureau of Meteorology 2001
Published by Australian Science and Technology Heritage Centre, using the Web Academic Resource Publisher
http://www.austehc.unimelb.edu.au/fam/0546.html