Table of Contents
---
Seventy-Five Years at Willis Island

Preface

Foreword

Chapter 1: Willis Island Today

Chapter 2: Willis Island is Conceived

Chapter 3: Willis Island is Born

Chapter 4: The Early Years

Chapter 5: Life in the 1930s

Chapter 6: Willis Island at War (1941–42)

Chapter 7: After the War

Chapter 8: Willis Island—1960s Style

Chapter 9: The Value of Willis Island

Chapter 10: The Original Inhabitants

Appendix 1: Willis Island Milestones

Appendix 2: Willis Island Officers

Appendix 3: Log of Willis Island Observations, December 1922

Appendix 4: References


---
Index
Search
Help
Contact us

Chapter 1: Willis Island Today (continued)

The WF100 radar doubles as a weather watch radar and, when not being used for upper air flights, provides continuous details of the location of rain echoes within about 500 km of the station.

Maintenance of the equipment is the primary responsibility of the Technical Officer (Electronic Engineering)—the 'Tech'—although help is always available from other members of the team. The range of equipment to be maintained is much greater than the usual meteorological gear, such as radar, computers, anemometers, AWS, etc. found on shore-based stations. This additional equipment is that used to provide facilities usually provided by outside bodies. It includes three Cummins/Onan generators that provide the Island's lifeblood—electricity—and various pumping and reticulation systems providing water from the desalinator unit and the four large capacity rainwater tanks, refrigeration and air-conditioning systems. Several additional communications systems become the responsibility of the Tech. These include VHF and HF radios including antenna and satellite communications providing weathernet, telephone, facsimile and television.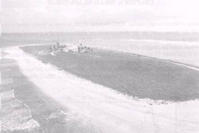 Willis Island, 1995 (Photograph courtesy of Gary Wybanger)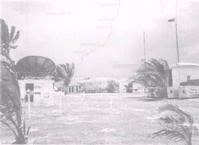 The approach to the station, 1987 (Photograph courtesy of Bob Brook)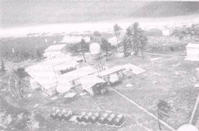 Willis Island Station, 1994 (Photograph courtesy of Mark Hallum)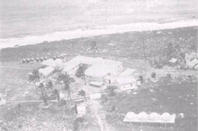 Willis Island Station, 1994 (Photograph courtesy of Mark Hallum)
Facilities and spare parts are now more than adequate and technical backup from engineering services staff on the mainland, especially at Townsville, is excellent.
Whilst the observers and the electronics officer have different official duties, all share in the house-keeping and general maintenance work required. Battle with the salt air is continuous. This station requires a close working team of observing and engineering staff for its optimum upkeep to ensure a pleasant and comfortable working and leisure environment. A Willis Island posting is not just a job, it's a lifestyle.
Although still the most isolated of all Bureau postings, living and working conditions are these days quite comfortable. Besides a fully air-conditioned working environment, each officer now enjoys separate, well appointed living quarters.
A well stocked food store using large capacity freezers and coolroom space ensures adequate food supplies for a wide range of tastes during the six month tour. The garden established over the life of the Island station can provide further stocks of fresh vegetables, and chickens provide a supply of fresh eggs. Occasional visits by Royal Australian Navy patrol boats provide fresh foodstuffs and urgently needed machinery items and mail, and are a welcome break from the isolation. The Royal Australian Air Force mid-tour airdrop also provides mail and fresh food.
---
Fletcher, P. 1996 'Seventy-Five Years at Willis Island', Metarch Papers, No. 9 December 1996, Bureau of Meteorology

© Online Edition Australian Science and Technology Heritage Centre and Bureau of Meteorology 2001
Published by Australian Science and Technology Heritage Centre, using the Web Academic Resource Publisher
http://www.austehc.unimelb.edu.au/fam/0602.html