Table of Contents
---
Weather News

Introduction

History
Fifty Years of Weather History
Weather Officers—25 Years Ago
The Perth RO Since 1929
Remember the Pioneers
Akeroyd the Great
Out with the Old—In with the New [Bill Gibbs / John Zillman]
Dr Bill Gibbs
Dr John Zillman
Meteorological History in the Territory
Edwin Thomas Quayle—Bureau Research Pioneer
Ninety Years Ago: Birth of the Bureau

Personal Notes

Retirements

Obituaries

Observers and Volunteers

Media

Computers


---
Index
Search
Help
Contact us

Out with the Old—In with the New [Bill Gibbs / John Zillman]
No. 243 December 1978

Out with the old—in with the new. Our cover photograph captures a historic Occasion for the Bureau on 17 July 1978 as Dr Bill Gibbs, retiring after 16 years as Director of Meteorology hands over to his successor Dr John Zillman, former ADR, in front of a blow up of one of the first full earth disc photographs to be received in the Bureau from the new Japanese Geostationary Meteorological Satellite. With its photographs coming into full operational use in the Bureau as Dr Gibbs stepped down, the GMS symbolises the new era for the Bureau under Dr Ziliman's direction and provides a fitting swansong for Dr Gibbs, whose tenure as DIR saw the first applications of satellite technology to meteorology, applications which have proved of immense benefit to the Bureau.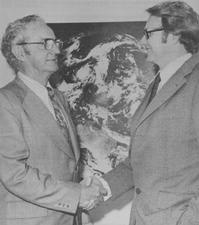 Dr Bill Gibbs hands over to his successor as Director of Meteorology, Dr John Zillman.
---
People in Bright Sparcs - Gibbs, William James (Bill); Zillman, John William



© Online Edition Australian Science and Technology Heritage Centre and Bureau of Meteorology 2001
Published by Australian Science and Technology Heritage Centre, using the Web Academic Resource Publisher
http://www.austehc.unimelb.edu.au/fam/1311.html