Table of Contents
---
Antarctic Operational Meteorology

Abstract

Introduction

The Past

The Present

The Future

Acknowledgements

References


---
Index
Search
Help
Contact us

Figure 2 Launching a radiosonde Macquarie Island 1968—note radar target for upper wind measurement (Photo S. Harris—Antarctic Division).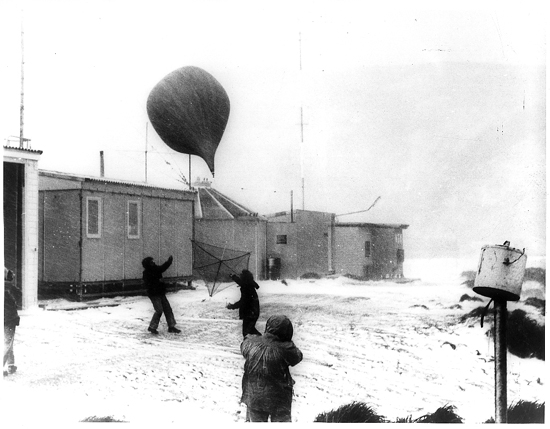 Figure 3 An example of station climatology. Some characteristics of the wind regime of Mawson (after Streten 1990). Annual variation at Mawson for indicated pressure levels expressed in hectopascals (hPa) of: (a) Mean upper wind speed (ms-1—full lines) and direction (arrow points vertically for southerly winds and horizontally to the right for a westerly wind); (b) percentage constancy of wind direction (note change of scale between 100 and 90 hPa—28 years of data 1956–1983). Annual variation at Mawson of: (c) mean windspeed based on monthly data A—mean, B and C extremes for individual months; (d) percentage frequency of wind direction; figures at the right show monthly mean percentage of calms—30 years of data 1954–1983; (e) diurnal variation (Local times—LT) at Mawson of percentage frequency of light winds <1.4ms-1 or 2.7 knots. Figures at the right show total frequency for all hours.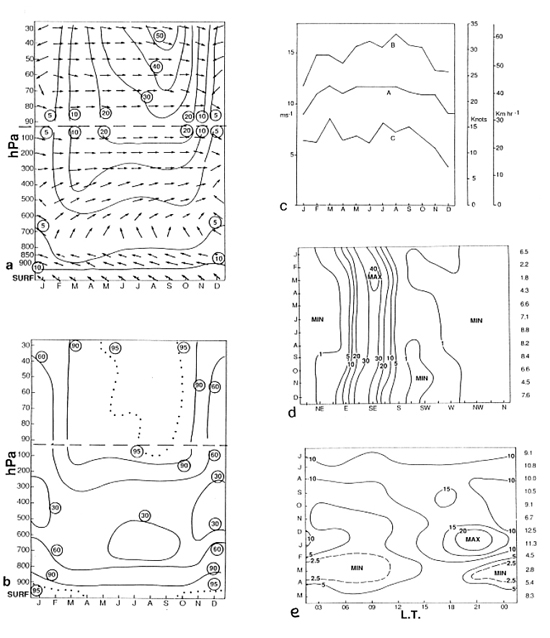 Figure 4 Meteorological conditions during a typical prolonged winter blizzard at Mawson (29 June to 6 July 1958). The lower panel shows present weather symbols and shading corresponding to visibility and cloud criteria, X indicates sky obscured by drifting snow (after Streten 1968).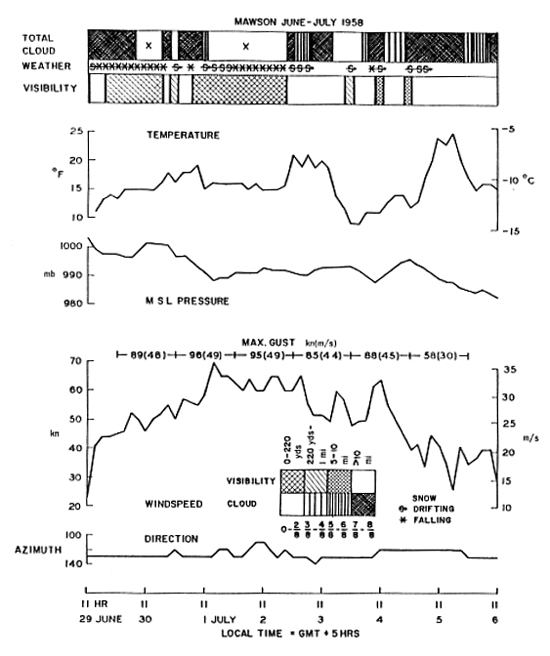 ---

© Online Edition Australian Science and Technology Heritage Centre and Bureau of Meteorology 2001
Published by Australian Science and Technology Heritage Centre, using the Web Academic Resource Publisher
http://www.austehc.unimelb.edu.au/fam/1586_image.html