Table of Contents
---
The Royal Society of Victoria 1934-1984
---
Index
Search
Help
Contact us

The Royal Society of Victoria 1934-1984 (continued)

Mr F.A. Cudmore, who gave valuable service as the Society's Honorary Librarian from 1926 to 1953 made a substantial bequest to the Society which has provided income for payment for the services of a professional librarian. The Library now holds about 25,000 volumes. In 1978 a Library Fund was established to provide a capital fund to yield income to meet part of the cost of Library operations. Subscriptions from members of the Society and from industrial and commercial organizations have yielded a capital sum of $48,000.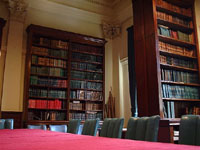 Royal Society Library, 2001 (Photographed by Gavan McCarthy).
Membership of the Society, which has a general rather than a specialized scientific outlook, includes scientists in many disciplines in addition to many men and women in other walks of life who have an interest in scientific matters. In 1934 there were 200 members, increasing slowly to 250 in 1947 and then more rapidly to 650 in 1980. The Society's Hall, situated on land granted to the Society by the Victorian Government for scientific purposes in 1857 and bounded by Victoria Street, La Trobe Street and Rathdowne Street, was built in 1859 to the design of architect Joseph Reed. It has been maintained and improved, and in 1953 was extended, remodelled an refurnished following an agreement with the Australian Regional Council of the Royal college of Obstetricians and Gynaecologists (now the Australian College) for tenancy of portion of the extended building and joint use of the Lecture Hall, Library and Supper Room. The extensions to the hall were formally opened by the Governor, Sir Dallas Brooks, on 25th August 1954. At the same time, trees were planted and the grounds put in order, and they are now maintained by the Melbourne City Council as one of the City's smaller parks.
---
People in Bright Sparcs - Garran, Richard Randolph; Reed, Joseph


Garran, Richard Randolph c.1980 'The Royal Society of Victoria 1934-1984', typescript, Royal Society of Victoria papers, State Library of Victoria, MS 11663, item 35/7.

© Copyright of Australian Science and Technology Heritage Centre and The Royal Society of Victoria 2001
Published by Australian Science and Technology Heritage Centre, using the Web Academic Resource Publisher
http://www.austehc.unimelb.edu.au/smv/069.html