---
The Heritage Documentation Management System provides a suite of tools for an archivist to process and manage any collection or grouping of records. From the archival documentation and administrative information held in the HDMS printed finding aids, and more recently HTML finding aids, can be produced. The finding aids are focused on providing researchers with information about a 'collection' of records and their context.

Not all the information held in the HDMS is output to the finding aid. The idea is that a researcher uses a finding aid to identify the records they wish to access, and then through quoting of the appopriate reference number, i.e Inventory ID, the archivist managing the collection can use the HDMS database itself to locate the records, provide them to the researcher and record their usage.
HTML Finding Aid
The HDMS has an HTML finding aid generator to produce a multi-page HTML finding aid, which includes links between series, provenance, inventory, related series, and related provenance. An index and photo gallery pages can also be added.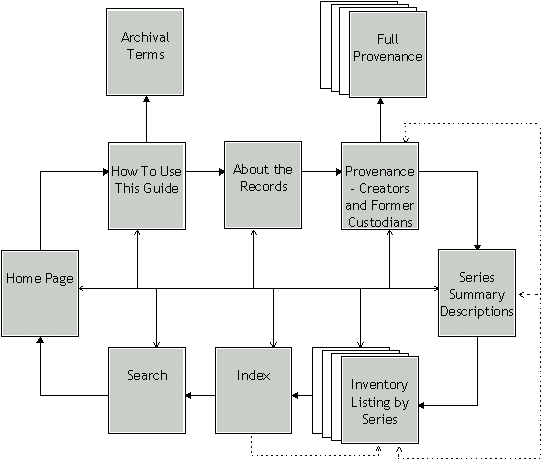 Structure of HDMS HTML Finding Aid
Examples of finding aids generated from the HDMS are
Encoded Archival Description (EAD)
In this context, the aim of the EAD generator for the HDMS in the first instance is to provide a basic SGML or XML EAD finding aid. The SGML finding aid produced may be uploaded into an appropriate SGML viewer, and the XML finding aid can be viewed, via an XSL stylesheet in an XML enabled browser, i.e. Internet Explorer 5. Thus, not all fields in the HDMS are output to EAD, nor are all the possible mappings of HDMS fields to EAD used. The aim is to strike an appropriate balance, and produce a structured finding aid, that is not 'overloaded' with data, nor is 'too large' to be delivered over the web.

The (pdf) documents HDMS EAD Report and HDMS Application Guidelines for EAD detail how EAD has been applied. The document HDMS Finding Aids gives a full explanation of how to use the HDMS finding aid generation wizard.

To see an example of an EAD finding aid, you need Internet Explorer 5 to view EAD Guide to the Records of Phillip Garth Law.
Acknowledgements
Austehc acknowledges financial support from the National Archives of Australia and National Library of Australia for this project.

We would also like to thank the Australian Literary Manuscript Collections: a National Database of Electronic Finding Aids project for allowing us to participate in the EAD workshop with Daniel Pitti held at the National Library in February 2000.
Further Information
More information on the HDMS.
The HDMS is available under license at no cost for non-commercial, heritage and public good purposes. Please contact Austehc for further information.