Table of Contents
---
Memories of the Bureau of Meteorology

Preface

Memories of the Bureau of Meteorology 1929–1946 by Allan Cornish

History of Major Meteorological Installation in Australia from 1945 to 1981 by Reg Stout
Foreword
Major Installation Projects Involving Reg Stout

Four Years in the RAAF Meteorological Service by Keith Swan

The Bureau of Meteorology in Papua New Guinea in the 1950s by Col Glendinning


---
Index
Search
Help
Contact us

History of Major Meteorological Installation in Australia from 1945 to 1981 by Reg Stout (continued)

He expressed his faith in me, and said that the Bureau would be independent of DCA and stand on our own two feet. He concluded by saying if we want things done right we do them ourselves. I saw Geoff Goodman and he gave me drawings and said I cannot help you and I was pleased to hear that.

I visited Laverton and had a look at the installation of the radar for which DCA had been responsible. I prepared a work-flow diagram of how the job could be accomplished. Tom Sleath, Roger Catchpool and one instrument maker worked with me on the proposals for two weeks and were very keen to put theory into practice. With three technicians it took us three weeks to put the radar, radiosonde and full meteorological equipment into Charleville. This included airborne flights and computations, transmission of messages back to Melbourne on the Bureau's Intermet communication system. We received congratulatory telegrams from Len Dwyer, Bill Brann, Geoff Goodman and staff.

We then flew to Brisbane Airport and from there to Townsville. In nine weeks we completed the installation of radars and facilities (at three stations) in the same time that DCA had taken to make one installation.

With the passage of time there was a turnover of staff. Ray Clarke came into the section (about March 1960 1 think) along with Lex Patterson. I divided Installation and Planning into two teams. Later I had George Khan, Bob West, Adrian Porter and Bob Lazdins. These men were former Senior Observers (Radio) and very dedicated towards meteorology. I trained them in my favourite pattern. Give them the theory and have them put it into practice (just like a football coach).

I believe the toughest project I had to handle was the Saddle Mountain weather watch radar, which was installed on a mountain range eight miles from Cairns Airport in October 1962.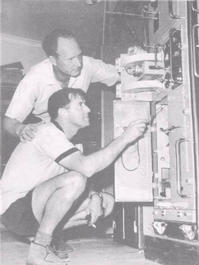 Reg Stout and Jack Byrnes make final checks on the Cossar weather watch radar transmitter installed on Saddle Mountain near Cairns, Queensland, October 1962.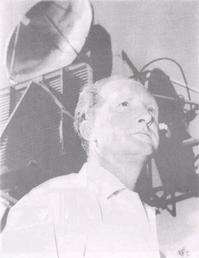 Reg Stout at Saddle Mountain near Cairns, Queensland, October 1962.
---
People in Bright Sparcs - Brann, Harold Walter Allen Neale (Bill); Clarke, Raymond W.; Dwyer, Leonard Joseph; Stout, Reginald William (Reg)


Cornish, A., Stout, R., Swan, K and Glendinning, C. 1996 'Memories of the Bureau of Meteorology', Metarch Papers, No. 8 February 1996, Bureau of Meteorology

© Online Edition Australian Science and Technology Heritage Centre and Bureau of Meteorology 2001
Published by Australian Science and Technology Heritage Centre, using the Web Academic Resource Publisher
http://www.austehc.unimelb.edu.au/fam/0549.html