Table of Contents
---
Memories of the Bureau of Meteorology

Preface

Memories of the Bureau of Meteorology 1929–1946 by Allan Cornish

History of Major Meteorological Installation in Australia from 1945 to 1981 by Reg Stout
Foreword
Major Installation Projects Involving Reg Stout

Four Years in the RAAF Meteorological Service by Keith Swan

The Bureau of Meteorology in Papua New Guinea in the 1950s by Col Glendinning


---
Index
Search
Help
Contact us

History of Major Meteorological Installation in Australia from 1945 to 1981 by Reg Stout (continued)

Everything looked a goer for the bomb to be tested. This was the sixth attempt. Henry woke me at 4.00 am—the radar had a fault. I got it going and the information was given to Henry Phillpot. Sir William Penny and the Safety Committee agreed conditions were first class. Off went the bomb and I went home.

Another memorable occasion was a visit to Darwin with Ralph de la Lande two days after Cyclone Tracy had devastated that city. We sat at the conference table with a large party of important people. I was taken aback by the Director of Works who said that the wind velocity was inaccurate because the Dines mast and hut in centre of airport was blown away. I excused myself and quoted from a letter and drawings I had prepared three months before Tracy's visit for the hut to be a concrete structure and the tower to be modified. The Director called for the file (Ralph said 'are you sure?'). I replied 'yes, everything is OK'. Well the file arrived and we found the letter. The Director of Works apologised. He asked what exactly was required and in one week after Tracy a concrete hut was up and a stronger tower constructed. Met stations in the cyclone area from Western Australia to North Queensland received the same treatment.

Another interesting exercise in which I was involved was planning of and participation in the first Moving Ships Project. We sailed from Perth to Port Elizabeth, in South Africa. Down to Cape Town, then up to Durban, where we stopped for three weeks to paint the ship. On to Mozambique and Beira. Down past Madagascar and around the bottom of Australia. Up to Gisborne in New Zealand after which I flew home to Australia.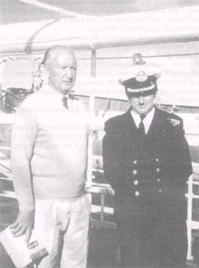 Reg Stout with the captain of Port Montreal during the Moving Ships Project.
I was away for over four months and did four flights in 24 hours up to 100,000 feet each day. The information was important because much of our weather comes from west to east across the Indian Ocean. The soundings were very valuable for our research—Meteorologist Sid Owens and I battled some rough seas around Madagascar, getting out of bed at 2.00 am in howling gales. It took some getting used to launching the balloon, and the transmitter also was a problem. We were kept so busy we never suffered sea sickness. When the ship was pitching and rolling it was an accomplishment to even draw two parallel lines, and writing of reports and recording data was extremely difficult with personal belongings and instruments flying all around the cabin.
The trip had been a huge success and Sid and myself felt it was a tremendous experience. Projects of this type were part of an international scheme endorsed by the World Meteorological Organization.
---
People in Bright Sparcs - de la Lande, Ralph; Phillpot, Henry Robert; Stout, Reginald William (Reg)


Cornish, A., Stout, R., Swan, K and Glendinning, C. 1996 'Memories of the Bureau of Meteorology', Metarch Papers, No. 8 February 1996, Bureau of Meteorology

© Online Edition Australian Science and Technology Heritage Centre and Bureau of Meteorology 2001
Published by Australian Science and Technology Heritage Centre, using the Web Academic Resource Publisher
http://www.austehc.unimelb.edu.au/fam/0553.html