Table of Contents
---
Weather News

Introduction

History

Personal Notes

Retirements

Obituaries

Observers and Volunteers

Media

Computers
Commissioning Ceremony of the Bureau's IBM 360/65 Computer
Computer—Important Forward Step
New Era for Meteorology
How We Got the Computer
The Computer
Processing 159 Million Rainfall Observations . . . Approx
Computing in the Bureau—The Early Years


---
Index
Search
Help
Contact us

Computers
Commissioning Ceremony of the Bureau's IBM 360/65 Computer
No. 145 August 1968 Cover Story

July 23 was a historic day for the Bureau of Meteorology. Indeed, it was a historic occasion for the whole nation.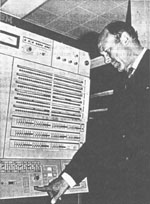 Mr. R. Kingsland, Secretary, Department of Interior, commissions Bureau's computer.
At 3.30 Mr. R. Kingsland, Secretary of the Department of the Interior, representing Mr. Peter Nixon, Minister for the Interior, pressed a shining green button at the World Meteorological Centre, Melbourne, and sent the Bureau's $1. 9 million IBM 360/65 computer complex into action.
It was a gala occasion with the computer being given almost "star" treatment by the large gathering of press, radio and TV people and distinguished guests. Later, more than 140 guests gathered at the Commonwealth Centre for a cocktail party to celebrate the occasion.
Our cover picture shows Mr. R. Kingsland commissioning the computer. A second computer, costing $1.43 million, will be added in the near future.
---
People in Bright Sparcs - Kingsland, Richard



© Online Edition Australian Science and Technology Heritage Centre and Bureau of Meteorology 2001
Published by Australian Science and Technology Heritage Centre, using the Web Academic Resource Publisher
http://www.austehc.unimelb.edu.au/fam/1499.html