---
The Online Heritage Resource Manager or OHRM is a context based resource discovery and access system that links creators, archival and heritage resources and published materials within the one system.

The logical structure of the OHRM, as illustrated below, is based around:
capturing key information about persons or corporate bodies in the Entity table;
capturing key information about archival resources in the ArcResource table;
capturing bibliographic citations of published resources, whether print, digital, online or offline in the PubResource table; and
capturing the relationships of 'Entities' to other entities, archival and published resources in appropriate 'relationship' tables, i.e. RelatedEntity, Earrship and Eprrship.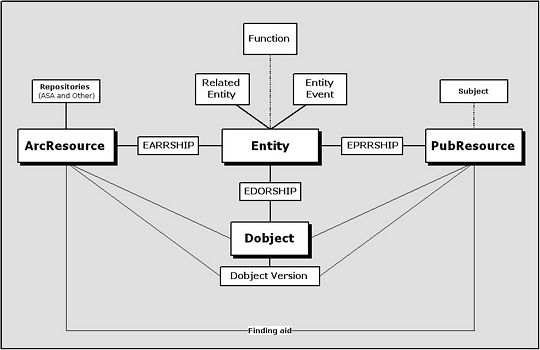 From this database, both static and dynamic HTML output can be generated to build a comprehensive web resource.
OHRM Papers
For more information on the OHRM, its conceptual underpinnings and development plans, please explore the following papers:
McCarthy, Gavan, 'Engineering Utility: A Visionary Role For Encoded Archival Authority Information In Managing Virtual And Physical Resources', paper presented at AusWeb99, the Fifth Australian World Wide Web Conference, April 1999.

McCarthy, Gavan, 'Heritage and the Internet - Encoding Context Objects: Using Knowledge to Reduce Risks' paper presented at the Australian Society of Archivists 1999 Conference, Brisbane, July 1999.

McCarthy, Gavan, 'Utilizing the Web to build a network of archival authority records', Janus, vol. 1999.1, pp. 96-107.

Evans, Joanne, 'Exploring Bright Sparcs: creation of a navigable knowledge space', paper presented at Charting the Information Universe, 13th National Cataloguing Conference, Brisbane, 13-15 October, 1999.
OHRM Implementations
OHRM Availability
Contact Ailie Smith for more information about the latest version of the OHRM.