Table of Contents
---
Chapter 4

I Management Of Native Forests

II Plantations-high Productivity Resources

III Protecting The Resource

IV Harvesting The Resource

V Solid Wood And Its Processing

VI Minor Forest Products

VII Reconstituted Wood Products

VIII Pulp And Paper
i Early eucalypt pulping research and development
ii Eucalypt pulp production begins
iii Early commercial operation
iv The beginnings of pulp production from plantation pine
v Technological development and economic growth
vi 1975 and beyond

IX Export Woodchips

X Future Directions

XI Acknowledgements

References

---
Index
Search
Help
Contact us

Eucalypt pulp production begins
In 1932 the Melbourne Herald joined in discussions on a possible newsprint project with Tasmanian Paper, APM and Papermakers Pty. Ltd., a company set up by Mussen in 1926 to develop a newsprint and printing venture at Burnie, Tas. As no joint newsprint project was forthcoming the Herald, which had by then acquired its own timber concession, decided to proceed alone and sent wood to British Columbia, where commercial trials were run successfully in 1934. The Sydney Morning Herald group -originally Mussen's strongest backer -then joined with the Melbourne Herald to establish in 1938 Australian Newsprint Mills Ltd. (ANM).

In the meantime Mussen had joined with Amalgamated Zinc, North Broken Hill, Broken Hill South and Consolidated Zinc to proceed with his plan for a mill at Burnie. They formed Associated Pulp and Paper Mills Ltd. (APPM) in 1936 but the original intention to include newsprint was abandoned because of the pre-emptive move by the newspaper companies. APPM's Burnie paper mill started in 1938, using imported pulp. By early 1939 its pulp mill was also in operation and the bleached eucalypt soda pulp it produced was then used as the major component of its printing and writing papers, along with 10-20 per cent imported bleached softwood pulp to improve strength and runnability.

APM started research on the kraft pulping of the eucalypts in the early 1930s, as this process was known to give a stronger pulp than either the soda or sulphite processes and was therefore attractive to APM because its main products at that time were packaging and industrial papers and paperboards, where strength was very important. Moreover a new method had just been developed in Canada -the Tomlinson recovery process -which greatly improved the economics of chemical recovery from spent kraft pulping liquor (black liquor). In its early stages APM's eucalypt kraft research also received some support from the groups which later formed APPM and ANM and for a time, a joint kraft mill serving the needs of all three was mooted. CSIR also co-operated in the program.[83]

In 1934 APM started operating a small kraft pilot plant at its Botany paper mill and two years later decided to proceed with a eucalypt kraft pulp and paper mill at Maryvale in Victoria. A semi-commercial pilot pulp mill was started there in early 1938, the main pulp mill in 1939 and the paper mill in the following year. Both unbleached and bleached pulps were made for use in the other APM paper and paper-board mills as well as at Maryvale. Notwithstanding the better strength of the eucalypt kraft pulp compared with that of eucalypt pulps from other pulping processes, it was still necessary to blend some imported softwood pulp with it.

ANM's newsprint mill at Boyer near Hobart, started in 1941. Based on the trials in British Columbia eucalypt mechanical pulp was used as the bulk of the furnish, initially with about 30 per cent of imported softwood pulp although as experience was gained this was progressively reduced, to around 20 per cent.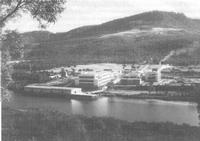 11 The world's first hardwood-based newsprint mill shortly after itss start-up in 1941 by Asutralian Newsprint Mills Ltd. at Boyer, Tasmania.
---
Organisations in Australian Science at Work - Amalgamated Zinc (De Bavay's) Ltd; Australian Newsprint Mills Ltd (A.N.M.); Australian Paper Manufacturers Ltd (A.P.M.); Australian Pulp and Paper Mills (A.P.P.M.); Broken Hill South Ltd; Consolidated Zinc Pty Ltd; CSIRO Division of Forest Products; CSIRO Pulp and Paper Section; Herald; North Broken Hill Ltd; Papermakers Pty Ltd; Sydney Morning Herald; Tasmanian Paper Pty Ltd

People in Bright Sparcs - Mussen, Gerald



© 1988 Print Edition pages 234 - 235, Online Edition 2000
Published by Australian Science and Technology Heritage Centre, using the Web Academic Resource Publisher
http://www.austehc.unimelb.edu.au/tia/247.html