Table of Contents
---
Chapter 12

I The First Half Century - The Initial Struggle

II The Second Fifty Years - The Start Of Expansion

III The Third Fifty Years - Federation And The First World War
i General Conditions
ii Some Early Innovative Approaches
iii Concrete Pipes
iv Cement-fibre Pipes
v Concrete Products
vi The Birth of the Iron and Steel Industry

IV The Fourth Period - Second World War To The Present

References

---
Index
Search
Help
Contact us

Concrete Products
In the late 19th century, Joseph Monier, a French engineer, patented a revolutionary system of pipe making using concrete reinforced by steel. An Australian company, Gummow Forrest and Company, imported a Monier pipe making machine from Europe in 1897 and set up a business near Darling Harbour, Sydney. They undertook further investigation into the design of the pipe and developed additional patents covering its modified designs. The Trade Mark 'Monier' to cover the pipe making process was registered in 1911.

In 1915, the Company was purchased by the NSW Government and became Monier State Pipe and Reinforced Concrete Works after which time a further important process development was the introduction of 'vibra-spinning' which allowed the simultaneous vibration while spinning, to give compaction. The works continued under Government ownership for twenty years but was finally acquired by a group of former employees to operate as Monier Industries Limited. In 1941, the Company was taken over by Cement Linings Limited, which was the parent company of the present Monier Limited. Cement Linings Limited had been formed in 1936 to purchase the Australian patents to a new process for the cement lining of new and used iron and steel water mains. Figure 1 shows the cement lining in water pipes.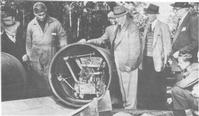 1 A demonstration to Water Board Engineers of the centriline process of cement lining water pipes in the early 1950s. (Courtesy Monier Ltd.)
Pipes were only part of this division of Monier, other products included prestressed concrete products such as bridge beams, columns and railway sleepers. Monier embarked upon a highly successful programme of product diversification over some 35 years and today is the largest producer, supplier and fixer of concrete roof tiles in Australia and also the largest in the United States of America and New Zealand. The company is a major producer in Australia of concrete bricks and paving and makes clay bricks in Western Australia using highly automated machinery and Monier patented energy saving technology.
Another older established company that joined the Monier group in 1981, was Rocia Industries Limited. Rocia had its roots in the very beginning of Australian reinforced concrete technology, starting in a small way in 1920 through the efforts of two Melbourne engineers, Walter Robertson and Heaton dark. The experimental pipes were made in 1926 and were cast vertically with an inner and outer mould and utilizing a novel 'bumper' method. Pipes ranging from 900 to 1750 mm diameter were soon being produced together with a simple interlocking joint which was the first of many innovations. A roller suspension process was devised to reduce maintenance, provide cleaner conditions and produce an economical, high quality pipe.
Monier now produce a diversity of pipes ranging in diameter from 100 to 3000 mm as well as box culverts, safety barriers and other precast products. It has developed the use of fly ash in cement and concrete which can significantly enhance the performance characteristics of the final products. A separate division produces a range of specialized steel roofing and cladding materials and other products used in the building trade. The Company has extensive roofing business outside Australia and particularly in USA.
---
Organisations in Australian Science at Work - Cement Linings Ltd; Gunmorrow Forrest and Company; Monier Ltd; Monier State Pipe and Reinforced Concrete Works; Rocla Industries Ltd

People in Bright Sparcs - Clark, Heaton; Robertson, Walter



© 1988 Print Edition pages 867 - 868, Online Edition 2000
Published by Australian Science and Technology Heritage Centre, using the Web Academic Resource Publisher
http://www.austehc.unimelb.edu.au/tia/848.html