Table of Contents
---
Chapter 5

I 1788 - State Of The Art In Textile Technology

II Australian Textiles - The Early Days

III Australian Textiles - The 20th Century

IV Australian Textiles - To Date
i Narrow-tape Weaving Loom and the Nyguard Zipper
ii Vacuum Packaging System for Knitting Yarns
iii 'Computer' Socks
iv 'Jumbo Cakes' (Large Cheeses of Spun Yarn)
v Out-Draw Texturing - Nylon
vi 'Bored-Out' Pack
vii Computer Control of Heat-Setting Conditions for Synthetic Yarns

V Acknowledgements

References

---
Index
Search
Help
Contact us

Narrow-tape Weaving Loom and the Nyguard Zipper
Up till the late 1940s, there was only one manufacturer of zippers/slide fasteners in Australia. This situation changed when between 1948 and 1950, Eric Cuckson and his seven colleagues emigrated to Australia to form W. E. Cuckson & Son Pty. Ltd. Cuckson and his colleagues had come from South Wales, where they had been working on the design and manufacture of high speed zipper chain machines.

After setting up a zipper production business they designed and developed a rapid zipper tape loom working at 3,000 rpm. This then led on to the invention and manufacture of a precision high speed narrow fabric needle loom which operated at speeds of 6,000 needle insertions per minute. This led to the formation of Cuckson Textiles Pty. Ltd. for the production of tapes.

In the late 1950s, nylon zippers started to come on the world market and Cuckson Textiles Pty. Ltd. knew that this would eventually challenge the metal zipper market. Most of these zippers were made from nylon filament manufactured to very close tolerances and formed into small diameter coils which were then deformed to function as zipper teeth. These coils were sewn onto the edge of the tape and two tapes, one with a right hand helix and the other with a left hand helix were meshed together to form a zipper.

Cuckson Textiles decided to use extruders to cast zipper teeth and, if possible, to try to cast teeth and attach them on one side of the tape at the same time. They found, however, that their roll making technology and their knowledge of working with nylon was not good enough.

Taking a fresh view of this problem, they decided to cast a small continuous ladder, where the rungs of the ladder when bent into a 'U' shape would form into zipper teeth. The tape was then inserted into the 'U' and secured by sewing. Overcoming many technical problems, the Nyguard zipper was developed. This is still regarded by many as the world's best heavy duty slide fastener and is still manufactured today (1986) in the U.S. and the Far East. In 1967 they started selling looms and the Nyguard zipper equipment to the U.S. company, Scovill Manufacturing Company which, in 1969, took a financial interest in Cuckson, the Australian company becoming Cuckson-Scovill Pty. Ltd. Subsequently, it became Scovill Australia Pty. Ltd. when the U.S. parent completely absorbed the company.

Subsequently, Llew Jones, before his retirement in 1981, developed machinery (Fig. 27) for making zip-fasteners by forming the plastic scoops directly on to support tapes in a continuous coating process which was patented and sold under the trade name of Nycast. The plastic scoops (teeth) are formed from the melted granules, fixed to the tape and cured in a continuous process which runs at 10 feet a minute. To date (1986), these computerised extruders have been manufactured at the Scovill plant in St. Marys, N.S.W, and exported to the U.S.A. and Mexico.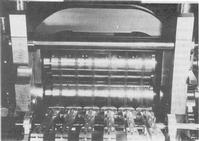 27 The Nycast sipper machine in which a two-sided fastener is cast directly onto the tape.
---
Organisations in Australian Science at Work - Cuckson Textiles Pty Ltd; Scovill Australia Pty Ltd; W. E. Cuckson & Son Pty Ltd

People in Bright Sparcs - Cuckson, Eric; Jones, Llew



© 1988 Print Edition page 301, Online Edition 2000
Published by Australian Science and Technology Heritage Centre, using the Web Academic Resource Publisher
http://www.austehc.unimelb.edu.au/tia/302.html