Table of Contents
---
Chapter 6

I Construction During The Settlement Years

II The Use Of Timber As A Structural Material

III Structural Steel

IV Concrete Technology

V Housing

VI Industrialised Pre-cast Concrete Housing

VII Ports And Harbours

VIII Roads

IX Heavy Foundations

X Bridges

XI Sewerage

XII Water Engineering

XIII Railways

XIV Major Buildings

XV Airports

XVI Thermal Power Stations

XVII Materials Handling

XVIII Oil Industry

XIX The Snowy Mountains Scheme

XX The Sydney Opera House

XXI The Sydney Harbour Bridge

XXII Hamersley Iron

XXIII North West Shelf

Sources and References

---
Index
Search
Help
Contact us

Concrete Technology (continued)

The superstructure necessitated the usage of advanced constructional equipment, incorporating sophisticated programming and forming methods, and 'fast-track' systems of expertise 'on the run' to expedite a prescribed rapid rate of construction. Central service cores, with walls 750 mm reducing to 200 mm thick and other major structural elements, are constituted of 60 MPa-30 MPa concrete. 25 MPa scoria lightweight-aggregate concrete, is used in the floor slabs, which are provided with both constructional jointing and movement jointing facilities for shrinkage allowance purposes.

The perimeter beams and columns are interconnected so as to function as an external framework, thereby integrally resisting a major portion of the lateral forces and controlling the dynamic performance of the structure. Computer-aided design is programmed to include such factors as member sizes, concrete strength and reinforcement ratios; temperature, humidity, loading conditions and age of loading; shrinkage, creep, column and facade shortenings; wind and movement effects, meteorological and model-testing data.

The twin-tower complex is effectively constructed by incorporating prestressing cables in a high-rise tower from levels 1 to 38, for subsequent stage-stressing purposes when the integrated sky-rise tower alongside is being built segmentally to the upper levels of the project. In this way, all columns below level 38 are subjected to similar loadings at the same time and the elastic and non-elastic shortening values are kept relatively consistent for the lifetime of the structure. Melbourne, Victoria, 1985 (Fig. 12).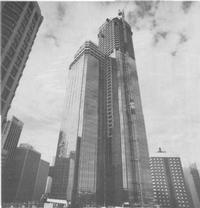 12 Rialto Building Project, Melbourne, Victoria
Concrete construction in remote areas has frequently called for technical ingenuity and supplying aggregates of adequate quality at an economic price. As a solution to a particular problem on the Weipa Bauxite Project in Northern Queensland, consulting engineers Gutteridge Haskins & Davey designed a concrete mix based on the use of graded bauxite aggregate in combination with local sands to produce a structural concrete capable of being utilised for all building works, foundations, etc. for the facilities required for the Weipa Bauxite project. A test programme established feasibility and eventually bauxite concrete was used in all structural concrete work at Weipa, including a major bridge superstructure. In exposed conditions the surface was coated with tar epoxy to prevent ingress of salt water and potential deterioration of surfaces.
Notwithstanding the friable nature of the bauxite aggregate, the concrete has performed well and after 15 years in service shows no signs of major deterioration.
The use of bauxite concrete in the project reduced the cost of concrete by in excess of 30 per cent, which resulted in a major saving over the life of the project.
Another contribution to concrete technology by GH & D, was the application of gunite facing to the upstream face of the rockfill dam for Mt. Isa and Mary Kathleen Water Supply in the early 1950s. This provided a simple economical form for construction for locations lacking impervious core material.
---
Organisations in Australian Science at Work - Gutteridge, Haskins and Davey; Weipa Bauxite project, Qld

People in Bright Sparcs - Taylor, W. H.



© 1988 Print Edition pages 329 - 330, Online Edition 2000
Published by Australian Science and Technology Heritage Centre, using the Web Academic Resource Publisher
http://www.austehc.unimelb.edu.au/tia/329.html