Industrial Precast Concrete Housing - Singapore
The largest single housing project ever undertaken by an Australian company is for the design and construction of 15,000 two and three bedroom flats for the Singapore Government. This $A300 million contract was won, in international competition, by White Industries Limited in 1981 (Fig. 16). Using Australian structural and production engineering designs, the project is demonstrably faster than the other conventionally constructed contracts which were let at about the same time. Originally scheduled to produce 2750 flats annually, the improvement of production and erection techniques has increased this annual production rate to 3800, or four twelve storey buildings every 36 working days.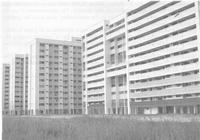 16 Singapore Housing Project
The structural system was designed by W. P. Brown & Partners Pty. Ltd. of Melbourne, who have been associated with precast housing construction in Australia for over 20 years. A decision was made to minimise the number of sections in the system and the number of crane cycles by maximizing the size of the sections. As a consequence the precast sections weigh up to 15 tonnes, some volumetric units such as bathrooms, toilets and lift-well sections are cast in a single operation.
The key to the extremely fast construction rate is the erection of today's production tomorrow, without fail. No section is put to storage, other than for repair. To achieve this short cycle time, steam curing is employed in the factory and each section is loaded directly from its mould or battery directly into its transporter for delivery to its respective site. The erection cycle is continuous and is based upon 150 tonne crawler-mounted Manitowok cranes. The flooring system utilised pre-stressed extruded hollow core planks, two metres wide and spans up to 9 metres long. This system calls for a daily production of either 360 or 540 metres of plank.
The precast factory is 16,000 square metres in area and contains batteries and moulds from Australia, Finland, Italy and U.S.A. Concrete production is automatic and subject to on-stream quality control.
The in-factory and on-site production utilizes 20,000 cubic metres of concrete and approximately 700 tonnes of reinforcing steel monthly. The minimization of on-site wet trades has resulted in no lost days in the construction cycle since the production/erection process began.
The achieved finish is extremely high and the water tightness of all joints is established by test flooding every floor in every flat with 6 cm of concrete topping followed by either terrazzo or ceramic tile surface. Tiles are also applied to the kitchen and bathroom walls.
Total project employment is around 1,700 workers including sub-contractors. The use of some 650 imported workers from Thailand, Philippines and Malaysia calls for extensive accommodation and messing facilities.
This project represents in a significant way the transfer of Australian technology to one of the most developed countries in South-East Asia.
---
Organisations in Australian Science at Work - W. P. Brown & Partners Ltd, Melbourne; White Industries Ltd

People in Bright Sparcs - White, G. B.



© 1988 Print Edition pages 336 - 338, Online Edition 2000
Published by Australian Science and Technology Heritage Centre, using the Web Academic Resource Publisher
http://www.austehc.unimelb.edu.au/tia/338.html