Table of Contents
---
Chapter 6

I Construction During The Settlement Years

II The Use Of Timber As A Structural Material

III Structural Steel

IV Concrete Technology

V Housing

VI Industrialised Pre-cast Concrete Housing

VII Ports And Harbours

VIII Roads

IX Heavy Foundations
i Hawkesbury Railway Bridge
ii Impact of Floods
iii Hydraulic Jetting
iv Development Between First and Second World Wars
v Foundations Post-Second World War
vi Victorian Arts Centre
vii Bowen Bridge

X Bridges

XI Sewerage

XII Water Engineering

XIII Railways

XIV Major Buildings

XV Airports

XVI Thermal Power Stations

XVII Materials Handling

XVIII Oil Industry

XIX The Snowy Mountains Scheme

XX The Sydney Opera House

XXI The Sydney Harbour Bridge

XXII Hamersley Iron

XXIII North West Shelf

Sources and References

---
Index
Search
Help
Contact us

Hawkesbury Railway Bridge
One of the foremost among these was the Hawkesbury Railway Bridge (Fig. 23), built between 1886 and 1889, by the Union Bridge Company of New York, who had successfully tendered in world-wide competition for its design and construction, with Messrs Anderson and Barr of Jersey City, U.S.A. as sub-contractors for the foundation work.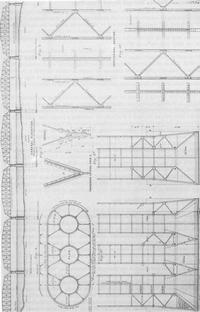 23 Hawkesbury Railway Bridge elevations
The reported ground conditions consisted of 'a bed of mud extending to a depth varying from 60 to 170 feet below high water mark, and overlying the sand'. The maximum water depth was 77 feet and the tidal range 7 feet. The bridge was designed with six piers founded on caissons, sunk through the 'mud' to the underlying sand. The caissons, 48ft x 20ft in plan, were constructed with hollow cellular walls and three internal compartments. Sunk to a maximum depth of 162 feet below high water, they were the deepest bridge foundations of their time. Two of the first three caissons diverged by 3 to 4 feet from their intended positions during sinking, but the later ones were modified and were accurately sunk without difficulty.
---
People in Bright Sparcs - Sewell, A. P.



© 1988 Print Edition page 350, Online Edition 2000
Published by Australian Science and Technology Heritage Centre, using the Web Academic Resource Publisher
http://www.austehc.unimelb.edu.au/tia/351.html