Table of Contents
---
Chapter 6

I Construction During The Settlement Years

II The Use Of Timber As A Structural Material

III Structural Steel

IV Concrete Technology

V Housing

VI Industrialised Pre-cast Concrete Housing

VII Ports And Harbours

VIII Roads

IX Heavy Foundations

X Bridges

XI Sewerage

XII Water Engineering

XIII Railways

XIV Major Buildings

XV Airports

XVI Thermal Power Stations

XVII Materials Handling

XVIII Oil Industry

XIX The Snowy Mountains Scheme

XX The Sydney Opera House

XXI The Sydney Harbour Bridge

XXII Hamersley Iron

XXIII North West Shelf

Sources and References

---
Index
Search
Help
Contact us

Major Buildings (continued)

At the opposite end of Collins Street is the Rialto project, combining in a masterly way the often competing demands of modern high-rise offices, with the restoration and rehabilitation of an important part of Melbourne's boom-time building heritage. It took many years of patient negotiations between the clients, the State Government, the City administration, and various heritage bodies, to devise a viable plan, and the completed scheme includes a 60-floor office tower, a shaped shaft of shining reflective glass, as well as the old Rialto and Winfield Buildings refurbished and enlarged to provide the prestigious Menzies-at-Rialto Hotel (1985: architects: Gerard de Preu and Partners, in association with Perrott, Lyon Mathieson Pty. Ltd.; engineers: W. L. Meinhardt & Partners).

The Victorian Arts Centre (architects: Roy Grounds & Associates, 1968-1983) has arguably been Melbourne's greatest building enterprise this century, with many technological challenges. The Art Gallery was the first section of this elongated tripartite site to be completed, its rectangular bluestone-faced form contrasting with the more curvaceous central block and the circular shape of the Concert Hall overlooking the Yarra River. The unprecedented foundation hazard due to geological conditions and highly aggressive flowing groundwaters, presented unusual technical problems. These problems were overcome by protecting the basement concrete with a durable butyl rubber membrane, with support for the structure on coated structural steel section piles, driven into the rock and anchored against partial buoyancy uplift by tension piles of structural steel. The steel components were protected by concrete encasement and impressed current cathodic protection.

The Queensland Cultural Centre in Brisbane (Fig. 53) also is a most comprehensive complex of structural integrated modern architecture, with Art Gallery, Performing Arts Complex, Museum and State Library. The palette of architectural expression is deliberately restrained with cubic shapes, terrace forms and an overall use of carefully colour-coordinated concrete, glass and steel. The design integration not only expressed the conceptual unity of the complex, but also ensures efficiency of services, and ease of accessibility and circulation. (1976: architect: Robin Gibson & Partners).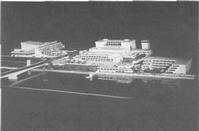 53 Model of Queensland Cultural Centre, Brisbane. (By courtesy of Queensland Cultural Centre Trust)
In the Australian Antarctic Territory, three permanent stations -Casey, Davis & Mawson were established on rocky outcrops in 1936. The building programme, under unique and challenging circumstances, is now under way and due for completion by 1990. The Territory is almost half the size of the 13 million square km Antarctic Continent, which is the highest, coldest, stormiest and driest land mass in the world. The ambient temperature at each station ranges from -40°C to +5°C, and winds of hurricane force often exceed 120 km/hr for several days at a time with gusts up to 280 km/hr. Access to the area by ship, for communication and constructional purposes, is restricted to three months of the year when the sea ice temporarily breaks up in summer.
---
Organisations in Australian Science at Work - Australian Antarctic Territory; Gerard de Preu and Partners; Perrot, Lyon Mathieson Pty Ltd; Robin Gibson and Partners; Sir Roy Grounds & Associates; W. L. Meinhart & Partners

People in Bright Sparcs - Haskell, Prof. J. C.



© 1988 Print Edition pages 387 - 389, Online Edition 2000
Published by Australian Science and Technology Heritage Centre, using the Web Academic Resource Publisher
http://www.austehc.unimelb.edu.au/tia/387.html