Table of Contents
---
Chapter 8

I Part 1: Communications
i Before the Telegraph
ii Electrical Communication Before Federation
iii Federation to the End of the Second World War
iv Post-war and on to 1975
v 1975 ONWARDS

II Epilogue

III Part 2: Early Australian Computers And Computing

IV Acknowledgements

References

---
Index
Search
Help
Contact us

Federation to the End of the Second World War (continued)
During the first two decades after Federation, the telegraph service continued to develop along earlier lines, with the mileage of pole routes increasing from around 100,000 to 150,000 in the twenty-year period and the number of telegrams lodged per year rising from just under 8 million to almost 18 million. The Todd Committee recommended the introduction of Wheatstone equipment for high speed telegraph traffic on the main inter-capital routes, but the first was not introduced until 1905 on the Adelaide-Perth route, giving a capacity of 220 words per minute on a single copper wire. In 1912-13, the Wheatstone system was improved by the addition of Creed reperforators and printers. Another major development came in 1922, when Murray multiplex equipment was introduced, a machine system which enabled the one line to be used for eight transmissions, four in each direction, at a speed of fifty words for each transmission.[14]

The new technology of radio, or wireless as it was generally known at the time, was to make a marked contribution to electrical communications, first in the form of wireless telegraphy, then as an entirely new service, broadcasting, and also inaugurating an international telephone service to England in 1930. Local experiments with electro-magnetic radiation which, as noted ealier, had begun in the 1890s, continued in the early years of Federation. Then in 1906 the Marconi Company, in an attempt to obtain authority to develop wireless telegraphy services in Australia, installed transmitting and receiving equipment at Queenscliff, Victoria and at Devonport, Tasmania and conducted successful communications across Bass Strait, but the Government did not purchase the equipment or approve the service.

The next development came in 1910, when tenders were called for wireless stations at Sydney and Fremantle for communication with ships at sea and contracts went to a consortium of local business men and Telefunken of Germany, who supplied the technology. Amalgamated Wireless Australia (AWA) was then formed, merging the Australian interests of Marconi, Telefunken and local business. By 1914, nineteen coastal wireless telegraphy stations had been established, largely using Australian manufactured equipment.

A benchmark in communications occurred in 1918 when the first direct wireless message from England to Australia was received at AWA's Wahroonga, Sydney, station. Four years later AWA, in which the Government now had a direct interest, and the Government, entered into an agreement for AWA to establish high-powered radio stations to provide a 24-hour international radio telegraph service, but it was not until 1929 that the 'beam wireless' telegraph service began operating. The following year 'beam wireless' technology shrank the world still further when a radio telephone service to England was brought into service, at a price for a three-minute call of £6.

As developing world technology brought a range of new opportunities, the PMG's Department responded in 1923 by establishing its own Research Laboratories under Mr. S. H. Witt, who was to remain its head until 1945. The charter was to study the latest discoveries, inventions and developments in electrical communications and to advise the Chief Engineer on those which were promising and likely to benefit the Department's telephone and telegraph services. Notwithstanding the growing diversity of services and increasing complexity in telecommunications techniques and technologies, the charter has remained essentially unchanged to this time.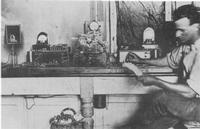 7 Alice Springs Repeaters, 1924
---
Organisations in Australian Science at Work - Amalagamated Wireless Australia (A.W.A.); Marconi Company

People in Bright Sparcs - Witt, S. H.



© 1988 Print Edition pages 546 - 547, Online Edition 2000
Published by Australian Science and Technology Heritage Centre, using the Web Academic Resource Publisher
http://www.austehc.unimelb.edu.au/tia/536.html