Table of Contents
---
Chapter 8

I Part 1: Communications
i Before the Telegraph
ii Electrical Communication Before Federation
iii Federation to the End of the Second World War
iv Post-war and on to 1975
v 1975 ONWARDS

II Epilogue

III Part 2: Early Australian Computers And Computing

IV Acknowledgements

References

---
Index
Search
Help
Contact us

1975 ONWARDS (continued)
Once the technologies of telephone cables and of communications satellites made it practicable to provide large numbers of relatively low cost international channels, International Subscriber Dialling, ISD, became an obvious requirement for Australia. It commenced to 14 major destinations on 1.4.1976 and was extended progressively to other destinations, co-ordinated with the availability of ISD access facilities within the Australian national network. Initially, charging was on a multi -metering basis but Telecom introduced an accelerated programme for itemised charging facilities. Reflecting the growing importance of marketing, a national advertising campaign was implemented, resulting in a marked increase in awareness of the new service. Table 7 illustrates the growth in international services since OTC was formed in 1946, while Table 8 shows the movement in prices of telephone calls.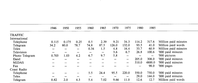 Table 7 Growth in international services since 1946

Table 8 Telephone call charges to UK compared with weekly award rates of pay

* Average weekly award rate of adult males, excluding overtime.
A first requirement in the period was to expand and technically upgrade international telex switching facilities and, to this end a contract was let with L. M. Ericsson Pty. Ltd. for two AXB20 telex exchanges, including manual operator switchboards and a number of service enhancements, such as Store and Forward, Abbreviated Dialling and Department Billing, and the first of these was in service in early 1984. As the AXB20 telex exchanges use the same central processor and software operating system as LME's AXE telephone exchanges, a substantial Australian content was achieved, including special applications system software, with OTC staff involved in its development under L. M. Ericsson supervision. These systems include a number of unique facilities featuring high reliability and a sophisticated exchange maintenance/recovery capability.
With traffic rising rapidly, it was necessary to plan for circuit growth for the decade ahead and studies showed that a Pacific cable to replace COMPAC would provide circuits at a cost only marginally greater than that involved if the traffic was carried on INTELSAT satellites. On the credit side, a new cable would increase the diversity and thus security of Australian international communications, while for certain uses cable circuits are technically advantageous as a result of their much shorter length and therefore less time delay than involved in satellite paths.
In 1977 a consortium of countries, with OTC acting for Australia, began planning and by 1981 contracts had been signed with STC for the supply and installation of a coaxial cable, with 1,380 four-wire duplex analogue telephone channel capability, spaced at 4kHz intervals. A spur cable from Norfolk Island to New Zealand, with 480 channel capability, was the subject of a contract with NEC. The cables, which were supplied from the UK and Japan, were of standard design and construction, but state-of-the-art computer driven surveillance equipment was developed for the project by Wandel & Goltermann under a sub-contract to STC. Many of the repeaters were made in a specially constructed clean room facility at the STC (Aust.) factory in Liverpool, Sydney, and required technology transfer relating to precision pressure housings, and bulkheads. Rigorous quality control procedures were achieved.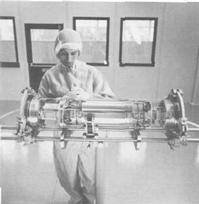 32 Assembling Submarine repeater at STC Liverpool factory
---
Organisations in Australian Science at Work - L. M. Ericsson; N.E.C. Australia; Overseas Telecommunications Commission (O.T.C.); Standard Telephones and Cables (S.T.C.); Telecom Australia (Australian Telecommunications Commission)



© 1988 Print Edition pages 597 - 600, Online Edition 2000
Published by Australian Science and Technology Heritage Centre, using the Web Academic Resource Publisher
http://www.austehc.unimelb.edu.au/tia/576.html