Table of Contents
---
Chapter 12

I The First Half Century - The Initial Struggle

II The Second Fifty Years - The Start Of Expansion

III The Third Fifty Years - Federation And The First World War
i General Conditions
ii Some Early Innovative Approaches
iii Concrete Pipes
iv Cement-fibre Pipes
v Concrete Products
vi The Birth of the Iron and Steel Industry

IV The Fourth Period - Second World War To The Present

References

---
Index
Search
Help
Contact us

Sheet rolling

Sheet rolling and galvanizing began in Australia around 1907 at the Eskbank Works, Lithgow; until that time product was imported. Steel sheet rolling at Newcastle, NSW followed the establishment of Lysaght's Works Pty. Ltd. on land adjacent to BHP in April 1921. Australia had been an important customer of the British firm John Lysaght Ltd. for many years previously, so much so that Mr. John Lysaght visited the Colony in 1879 and decided, then and there, to establish a Central Selling Agency in Australia through which all sales would be made. By 1895, from an annual output of 40,000 tonnes, the exports to Australia were 30,000 tonnes which was about three-quarters of the total Australian demand. By 1913 Australian consumption had risen to around 85,000 tonnes, a mass large enough to sustain a reasonably sized production plant. Land was purchased in 1914 but building of the works did not begin until after the end of the First World War and they were finally opened in April 1921. Much of the required equipment, such as mill housings, coupling boxes and iron castings for the mill furnaces was made in Newcastle by BHP and Goninans; the cast iron mill beds were manufactured by Walker and Co., Maryborough. The main electric driving motors of 1300 HP were imported complete with a massive 10.2 metre diameter flywheel weighing 160 tonnes. Figure 2 shows a typical sheet rolling mill.

Steel for rolling into sheet was obtained as sheet bar from BHP, a narrow bar of steel that was subsequently cut to a length by Lysaght such that, by rolling at right angles, this length became the width of the final sheet. Four mills were provided for roughing and finishing rolling, together with four galvanizing pots. The initial capacity of the plant was over 13,000 tonnes per annum and was unique in that most of the initial operators were brought out from Wales, complete with families and possessions and set up in houses not far from the plant. Most finally settled permanently in Newcastle and contributed greatly to the city.

On its completion in 1921, the plant was really a cross-section of the final works, which were to be completed by later additions, without the need for much rearrangement or loss of production. The mill motor already installed was capable of driving four more mills while the annealing furnaces and pickle yard were able to handle double the initial output and required no alteration. By the end of 1924, two more mills and an additional galvanizing bath had been installed and output in 1925 increased to a potential of about 20,000 tonnes per year.

In 1926, the seventh manual mill was in operation and an eighth installed the following year. The galvanizing and packing shops were extended to cope with the increased output which, by 1927, was of the order of 27,000 tonnes. By this time much of the equipment, such as the mill motor and the annealing furnaces, were operating to near full potential and if the capacity of the plant were to be increased, each of the units would need to be duplicated.

The second duplication was begun in 1928 with the lengthening of the mill building to provide space for the further equipment and more storage. Two years later, sixteen manual mills and ten galvanizing pots were operating and a record yearly output of 36,000 tonnes was posted. This was to increase to 57,000 tonnes in 1932 which, however, was still below Australian demand.

In order to increase production with least disturbance to the operating plant, a programme of mechanization was introduced. Sheet rolling can be conveniently divided into two stages, roughing or rolling to a thickness of around 1.6 mm and finishing where rolling is completed to the final thickness required. At various stages, the extended rolled sheet may be doubled to maintain adequate thickness for control of rolling. The original mills carried out both roughing and finishing on the same mill but as the roughing stage was complete in a shorter time than finishing, it gradually became necessary to separate the two stages on to different mills. Further, manual mills were giving way to mechanical mills. The first mechanical finishing mill was installed in 1934 and a second in 1936, when two manual roughing mills were replaced by a 'three high' Macintosh Hemphill mill which operated using three rolls. The mechanical mills now formed a complete and self-contained rolling unit. Great skill and much experience was required to roll truly flat sheets, the deviation from flatness generally being referred to as the 'shape' of the sheet. Rolls were ground with a convex crown which would alter as the rolls were heated or cooled; it was essential to roll through the roughing stand to a profile that would fit the working crown of the finishing mill if flat sheet were to be produced. The use of the separate mills required new levels of skill and more precise control of variables such as temperature. Gradually instruments for measuring and recording temperature were introduced.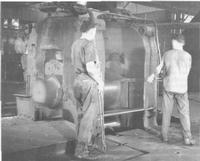 2 Rolling sheet as individual pieces on manual mill at Lysaght's Newcastle plant during the Second World War period. (Courtesy: BHP Steel International, Coated Products Division)
---
Organisations in Australian Science at Work - A. Goninan & Co.; Eskbank Ironworks Co.; John Lysaght Ltd; John Walker & Co. Ltd, Maryborough; Lysaght's Works Pty Ltd; Titan Manufacturing Company



© 1988 Print Edition pages 873 - 874, Online Edition 2000
Published by Australian Science and Technology Heritage Centre, using the Web Academic Resource Publisher
http://www.austehc.unimelb.edu.au/tia/853.html