Table of Contents
---
Chapter 12

I The First Half Century - The Initial Struggle

II The Second Fifty Years - The Start Of Expansion

III The Third Fifty Years - Federation And The First World War

IV The Fourth Period - Second World War To The Present
i General Conditions
ii Iron and Steel Production
iii Aluminium Technology
iv Innovative Copper Refining Process
v The EDIM-4WD Load-Haul-Dump Vehicle
vi Copper Rod Production
vii Copper Wire and Cables
viii The Diecasting Industry
ix Automotive Components
x Whitegoods or Consumer Durables
xi Hardware
xii Some Recent New Industries
xiii The National Measurement System
xiv Manufacturing Industry in this Decade
xv Acknowledgements

References

---
Index
Search
Help
Contact us

Steels for the automotive industry (continued)

Door side intrusion beams are a requirement of Australian cars and for this and similar application Coated Products Division developed two cost-effective specialised recovery heat treated steels giving 500 and 600 MPa yield strength respectively. In addition, a range of coated steels is produced, including a corrosion resistant steel strip coated with a zinc rich organic coating known as Zincrometal. A novel sound-deadened steel was developed from laboratory research and consisted of a sandwich of two sheets of steel separated by a thin visco-elastic material, production of which is covered by patents. The material significantly reduces noise levels emanating from rocker panels, air conditioner housings or transmitted through floor pans of motor cars and is effective over a wide temperature range whereas overseas, at least two different grades are needed to cover the same temperature range.

Wire products

During 1935, specifications were drawn up at Rylands, Newcastle, for wapping-off machines which were the start of a new generation of wire drawing units (see Fig 7). With the installation of new nail machines, straightening and cutting machines and increased galvanizing and tinning capacity, the Newcastle plant had become the most diverse in the southern hemisphere. Prior the the Second World War, the significant areas where technology was lacking included valve-spring wire, tyre-bead wire, mine mooring cables and aircraft control cables.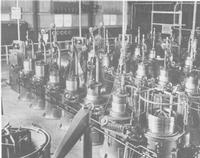 7 'Wapping off' wire drawing machines introduced on the 1930s by Rylands provided a new level of technology to the wire drawing industry world-wide. (Courtesy: BHP Steel International, Wire Product Division)
During the war period, the solution to producing mine-mooring ropes led to another world first at Newcastle with the conversion of a fine-wire galvanizing plant to one including in-line patenting, cleaning and galvanizing but with an alternative tinning bath, to produce high-strain black wires for rope.
Another advance was the manufacture of field telephone cable, a project that involved not only Rylands who produced drawn tinned wire; but also Metal Manufacturers Ltd., for copper wire; Australian Wire Rope Works, for strand production; and Olympic Tyre and Rubber Co., for insulation and braiding. This experience led finally to the production of aircraft control cables.
In the post-war period, the increase in tensile strength that became available for plain and barbed wire made it possible for smaller diameter wire to do the same fencing job and also for the same weight of wire to cover two and a half times the distance of the older sizes. Thus, while the wire products advanced technically, it was at the expense of somewhat reduced tonnage.
In the heavy construction area, development of cross-welded reinforcing mesh by ARC Industries greatly influenced the market and production configuration of the domestic wire industry, as the mesh technology spread rapidly to housing and construction.
It was the automobile industry, however, that was to have, finally, the greatest impact on the wire industry partly because of the enormous range and number of wire-based components and partly because many of these were special materials requiring new production techniques of Rylands. There was a large increase in capacity to produce patented tyre-bead wires.
---
Organisations in Australian Science at Work - A.W.R.W. (Australian Wire Rope Works Pty Ltd); ARC Industries Pty Ltd; Australian Wire Rope Works Pty Ltd; B.H.P. Steel International. Coated Products Division; B.H.P. Steel International. Slab and Plate Division; Metal Manufacturers Ltd; Olympic Tyre and Rubber Co; Rylands Bros., (Aust.) Ltd



© 1988 Print Edition pages 891 - 892, Online Edition 2000
Published by Australian Science and Technology Heritage Centre, using the Web Academic Resource Publisher
http://www.austehc.unimelb.edu.au/tia/869.html