Engines and components (continued)

Repco's brake division developed a new hydraulic brake fluid which they found difficult to market, as a competitor company sold their fluid as a package with a patented brake bleeding pump. The latter was made available only to those who used the competitor's brake fluid and was a decided advantage as it reduced a two-man job to that for one man. As Repco were denied a licensing arrangement, they evolved a new construction of bleeding pump based on the use of standard parts. The novel features of the unit were patented and the innovation proved to be of significant commercial worth to the Company.

In 1957 there was a rationalization of automotive engine bearing manufacturers, with Repco absorbing a number of other makers. Repco also took up an American licence to produce engine bearings by the continuous strip process, then the most advanced in operation. Repco Bearing Company produced precision bearings for both original and replacement domestic markets and also exported bearings. A number of required items of equipment was made by Repco rather than purchase overseas as designs were needed that better suited the small Australian market.

Repco invented a new process for producing high tin aluminium-tin steel backed strip for bearings production to replace obsolescent babbit metal bearings or the tri-metal overplated bearings used for higher loading applications. The process was covered by world patents, and licensed in UK and elsewhere, the prime licensee being Glacier Metals in England. In 1980 some 225 million pieces of their patented high tin aluminium-tin steel backed bearings were produced world-wide.

Arthur Bishop, working with the Department of Aircraft Production during the Second World War, developed an innovative Variable Ratio Linkage for the landing gear steering and 'shimmy' control of military aircraft. This was adopted both in Australia and in the United Kingdom and a few years later was also in wide use in U.S. Military airplanes.

After the War, he founded A. E. Bishop Holdings Pty. Ltd., a company with a world-wide reputation for research, development and tool manufacture in the areas of variable-ratio manual steering systems and variable-ratio/boost power steering systems. Bishop is now one of the world's foremost workers in the field of vehicle steering and has developed some 40 separate inventions with over 300 patents in various countries. His inventions relate to both the design of steering gear and to machines and processes associated with their manufacture.

Both General Motors-Holden and Ford Australia currently use this power steering system, now made by James N. Kirby Product Pty. Limited, who have more recently also begun the manufacture of the Variable Ratio Rack and Pinion steering unit. Licences have been granted widely overseas and the inventions are currently in use in Japan, UK, West Germany, Brazil and elsewhere.

The Bishop Rotary Valve for hydraulic power assisted steering gears, introduced low cost manufacture of the valve sleeve and input shaft through a one-piece sleeve slotting and valve metering edge roll-imprinting process. No other process offers the same valve boost curve repeatability as the Bishop unit. Further important advantages are quiet valve operation and maximum flexibility in the design of valve performance curves. Fig 12 shows the components of a rotary valve.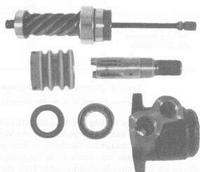 12 Various components of a rotary valve assembly used in hydraulic power assisted steering gears including (centre) the unique roll-inprinted shaft, an Australian first. (Courtesy: A. E. Bishop and Associates Pty. Ltd.)
---
Organisations in Australian Science at Work - A. E. Bishop Holdings Pty Ltd; Australia. Department of Aircraft Production; Ford Australia; General Motors Holden; James N. Kirby Product Pty Ltd; Repco Bearing Company; Repco Corporation Ltd

People in Bright Sparcs - Bishop, Arthur E.



© 1988 Print Edition pages 904 - 905, Online Edition 2000
Published by Australian Science and Technology Heritage Centre, using the Web Academic Resource Publisher
http://www.austehc.unimelb.edu.au/tia/883.html