Some Recent New Industries (continued)
BGS Medical was formed in 1972 to exploit research done at Sydney's St Vincent's hospital. It is presently the world leader in implantable bone growth stimulators.

The subsidiary, Cochlear, developed an implantable hearing prosthesis from initial research work done at the University of Melbourne (see Fig 13). The 22 channel cochlear implant, 'the Bionic Ear' is the newest technology for the hearing impaired and profoundly deaf who get little or no benefit from traditional hearing aids. The Bionic Ear electrically stimulates the remaining nerve fibres in the ear to give hearing sensations which enable improved detection of sounds in the environment, and an increased ability to recognise speech with the aid of lipreading. Current product development work is being carried out on the strategy required to analyse the sound and present the stimuli.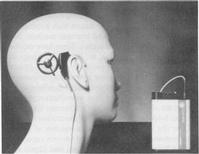 13 Cochlear implant's head set and speech processor together with a view of the implant unit. (Courtesy: Nuclens Ltd)
Domedica, involved in dialysis and extracorporeal blood processing, has developed a method of manufacturing dialysis systems. The product, called the 'primed dialyser', greatly simplifies the process of home dialysis, and includes a package of ready-to-use disposable segments, including needles, blood tubing and the dialyser.
Laser Lab Limited of Victoria has now produced over fifty laser cutting machines and have established exports to USA, Canada, UK, Sweden, China and Israel. They have now gained over 10 per cent of the world market in laser processing machines.
Rainsford Metal Products in South Australia has developed unique automotive rear vision mirrors which are held to be 4-5 years in advance of American designs. Improved production techniques allow 10-50,000 units per year to be manufactured, of which a third is exported to USA.
There are many Australian industry sectors where manufacturing for the domestic market alone is quite uneconomic and a typical example is scientific equipment. This philosophy led a Victorian based firm, Labtam Limited, to concentrate heavily on developments that would have international markets. In the first year of production, a 60 per cent level of export was achieved and currently, annual export sales are approaching $20 million with planned expansion to $100 million by 1990. Founded around 1980, by 1983 the Company had a range of technologically advanced products in the information and scientific instruments fields. In addition the Company is involved with the commercialization of the Hollow Cathode Plasma Etcher, developed initially by the University of New South Wales which is claimed to give higher etching rates and lower rejects than conventional techniques.
A major technological advance has been made by another Victorian company, Machine Dynamics Pty. Ltd. which was incorporated in 1972 to manufacture special purpose pneumatic equipment for the metal and textile industries. The Company has expanded to become a world leader in industrial robotics, designing equipment on aeronautical engineering principles rather than being an extension of a conventional machine tool. Thus, the concept has been for lightweight but stiff structures with rapid acceleration, high velocities and minimum power requirements. The Company is producing major robot units for the Australian automatic industry which are assessed as the best gantry robots available internationally.
---
Organisations in Australian Science at Work - BGS Medical Corporation; Cochlear Pty Ltd; CSIRO; Domedica Pty Ltd; Labtam Ltd; Laser Lab Limited; Machine Dynamics Pty Ltd; Rainsford Metal Products



© 1988 Print Edition pages 911 - 912, Online Edition 2000
Published by Australian Science and Technology Heritage Centre, using the Web Academic Resource Publisher
http://www.austehc.unimelb.edu.au/tia/890.html