Cover
Flyleaf
Online Edition
---
Title Page
Imprint
Message
Tribute
Foreword
Table of Contents
Contributors
Sir Lindesay Clark
Introduction
---
Index
Search
Help
Contact us

Sir Lindesay Clark An Appreciation (continued)

During the Second World War Lindesay Clark was Deputy Controller of Mineral Production, responsible for the production of strategic materials needed for Australia's war effort. New mining ventures that resulted from this were scheelite from King Island, tungsten from Hatches Creek in the Northern Territory, and mica from Meekatharra, in Western Australia. It was during the war, in 1944, that, on the death of Sir Colin Fraser, Lindesay Clark became a Director of Broken Hill South Ltd. and The Broken Hill Associated Smelters Pty. Ltd., and later of North Broken Hill Ltd. After the war, he led the re-establishment and expansion of the WMC Group gold mining operations at Kalgoorlie, Norseman, Bullfinch, Reedys and Coolgardie in Western Australia and Newstead and Woods Point in Victoria.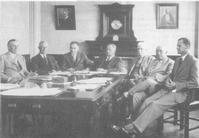 6 A meeting of Directors and Advisors to Western Mining Company c. 1933. Left to right: W. S. Robinson, Colin Fraser, C. P. Smith, H. B. Jackson, Richard Hamilton, H. E. Vail and Lindesay Clark (then Technical Managing Director of WMC).
In 1952, on the death of Sir Walter Massy-Greene, Lindesay Clark became Chairman of Western Mining Corporation and the dozen other companies within the Group. He initiated a program of diversification from the Group's traditional gold mining into base metals. This led to a series of discoveries and new developments. One early success was the proving of the Darling Range bauxite deposits in Western Australia, which led to the formation in 1961 of Alcoa of Australia Ltd., of which he was founder Chairman, and the subsequent setting up of an integrated aluminium industry with bauxite mines and alumina refineries in Western Australia and an aluminium smelter in Victoria.
Another was the development of the Koolanooka Hills iron ore deposit in Western Australia and the first long term contract for the export of iron ore from Australia to Japan, in 1966. Still another was the discovery of sulphide nickel deposits at Kambalda in Western Australia in 1966 and the development of an integrated nickel industry in Australia. Subsequent discoveries by WMC included uranium at Yeelirrie in Western Australia in 1971 and the extensive copper-uranium-gold mineralisation at Roxby Downs in South Australia in 1975.
As Chairman of Broken Hill South Ltd., an office he assumed in 1956, Lindesay Clark led the company into diversification of its exploration effort, reasoning that while success at Broken Hill would extend the life of the mine success elsewhere would extend the life of the company. Broken Hill South became involved in re-establishment of copper mining at Cobar in NSW and Kanmantoo in SA and the discovery and development of the extensive phosphate deposits near Duchess in Queensland. The fact that these projects did not prosper because of world economic events in no way diminished the organisational and technical achievements involved.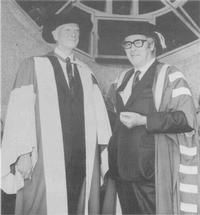 7 Sir Lindesay Clark after receiving an Honorary Doctorate of Laws at Monash University from Sir Richard Eggleston.
---
Organisations in Australian Science at Work - Alcoa of Australia Ltd; Broken Hill Associated Smelters Ltd (B.H.A.S.); Gold Mines of Australia Ltd; Western Mining Corporation

People in Bright Sparcs - Robinson, W. S.



© 1988 Print Edition pages xvii - xviii, Online Edition 2000
Published by Australian Science and Technology Heritage Centre, using the Web Academic Resource Publisher
http://www.austehc.unimelb.edu.au/tia/xiv.html