Cover
Flyleaf
Online Edition
---
Title Page
Imprint
Message
Tribute
Foreword
Table of Contents
Contributors
Sir Lindesay Clark
Introduction
---
Index
Search
Help
Contact us

Sir Lindesay Clark An Appreciation (continued)

Among the many honours awarded to Lindesay Clark were an Honorary Doctorate in Engineering by the University of Melbourne in 1961, Companion of the Order of St. Michael and St. George (CMG) in 1961 for 'services to the mineral industry', the Medal of The Australasian Institute of Mining and Metallurgy in 1962 for 'leadership in exploration, development and extraction of Australia's mineral resources', Knight of the Order of the British Empire (KBE) in 1968 for 'distinguished services to the mining industry', the Kernot Memorial Medal from the University of Melbourne in 1970 for 'distinguished engineering achievement in Australia', and Honorary Membership of the Institution of Mining and Metallurgy (London) in 1971 and of The Australasian Institute of Mining and Metallurgy in 1973. Sir Lindesay was awarded the Companion of the Order of Australia (AC) and an Honorary Doctorate of Laws from Monash University in 1975. He was a Foundation Fellow of the Australian Academy of Technological Sciences in 1975 and took a keen interest in its growth and development.

In 1974, at the age of seventy-eight, Sir Lindesay stepped down from a number of directorships and as Chairman of Broken Hill South Ltd. and Western Mining Corporation Ltd. He remained on the WMC Board for four more years, devoting some time to writing his recollections of the company under the title Built on Gold which was published in 1983, the company's fiftieth year.

Sir Lindesay Clark's many attainments are to be found not only in the many mining and metallurgical ventures he promoted, developed and persevered with, but also in the lives and attitudes of the many people who were fortunate enough to work closely with him and over whom he had influence. He was generous with advice and liberal with praise. He was always optimistic, as the last paragraph of Built on Gold shows. 'There have naturally been many changes in the industry during the life of the Company,' he wrote, 'but I have observed that one characteristic persists -every miner is a prospector at heart, and every prospector is perforce an optimist.'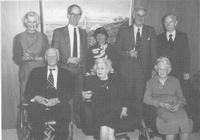 11 A family group in October 1983. Seated, from left to right, Sir Lindesay Clark, Lady Clark, Mrs R. B. Lewis (Sir Lindesay's sister). Standing, left to right, Mrs J. Brookes (daughter), Professor Arthur Clark (son), Mrs A. Clark, Mr J. Brookes and Mr R. B. Lewis.
The success of many of the enterprises in which Sir Lindesay took a leading role is to a great extent attributable to his efforts and to those of the people he selected to work with him in their planning and development. The concept of technological excellence he insisted upon remains a basic philosophy of many of those enterprises to this day.
For the most part Sir Lindesay's life was his work and his work his life. He played tennis with enthusiasm and golf more for exercise than competition. He was skilful at billiards and enjoyed walking. He derived much enjoyment from classical music. His talent for painting was little known, but his love of the visual arts was displayed by the generous gift of the Sir Lindesay Clark Window of Monash University's Robert Blackwood Hall.
---
Organisations in Australian Science at Work - Australasian Institute of Mining and Metallurgy; Broken Hill South Ltd; Western Mining Corporation



© 1988 Print Edition pages xxii - xxiii, Online Edition 2000
Published by Australian Science and Technology Heritage Centre, using the Web Academic Resource Publisher
http://www.austehc.unimelb.edu.au/tia/xvi.html