Table of Contents
---
Memories of the Bureau of Meteorology

Preface

Memories of the Bureau of Meteorology 1929–1946 by Allan Cornish
Foreword
Chapter 1: My Early Days in the Bureau
Chapter 2: Some New Vistas
Chapter 3: The RAAF Measures Upper Air Temperatures
Chapter 4: The Bureau Begins to Grow
Chapter 5: My Voyage in Discovery II
Chapter 6: The Birth of the Instrument Section
Chapter 7: Darwin Days
Chapter 8: I Leave the Bureau

History of Major Meteorological Installation in Australia from 1945 to 1981 by Reg Stout

Four Years in the RAAF Meteorological Service by Keith Swan

The Bureau of Meteorology in Papua New Guinea in the 1950s by Col Glendinning


---
Index
Search
Help
Contact us

Chapter 7: Darwin Days
Here are some brief memories of some of the things that happened at Darwin when I was there as Area Meteorologist in the RAAF Meteorological Service.

Brian Rofe, who featured in an amazing escape from Timor in the early days of the war, was posted to Darwin just before the war in the Pacific ended. Brian escorted two widowed nursing sisters over to Timor to see if they could find the graves of their husbands. They were fighter boys and had been shot down over there. So he returned to the island of Timor where he had performed magnificently in eluding Japanese forces before being picked up by an American submarine with the party he had led for six weeks (see Joyce, Metarch Papers No 5, October 1993 for details of the Rofe story—Ed).

In the year the war ended Darwin started to become more civilised. But there was a problem of arranging the surrender of the Japanese forces in the islands of what was then the Dutch East Indies, later to become Indonesia. The Army and the Navy were fully committed and there was a Japanese division on Flores Island.

It was decided that the Air Force could handle this one. Stu Campbell who was in charge of the Catalina group in Darwin at the time phoned me down at Area HQ and said 'I've talked to your CO (Charles Charlesworth) and I want you to go on this surrender mission to Flores with three of my blokes'.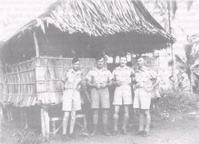 Allan Cornish (left), Jim Williams, John S. Maher and George Smallman at Milne Bay, Papua, April 1943.
So the four of us took off from Darwin in a Catalina at midnight together with an AIF sergeant who spoke a bit of Japanese. We landed at Koepang at first light about three or four days after the war had ended. We sent a signal to Mayomere in the Flores, well north of Timor, that we were coming and would need safe conduct.
We picked up a Japanese lieutenant in Timor who spoke some English. We landed in Mayomere about 4pm. A Japanese LST (landing ship) approached the Catalina. We were concerned that it might collide with our Catalina and sink it so we kept taxiing around. We indicated that we wanted nothing bigger than a canoe and that we wanted a Japanese major as hostage.
---
People in Bright Sparcs - Cornish, Allan William; Joyce, John; Rofe, Bryan


Cornish, A., Stout, R., Swan, K and Glendinning, C. 1996 'Memories of the Bureau of Meteorology', Metarch Papers, No. 8 February 1996, Bureau of Meteorology

© Online Edition Australian Science and Technology Heritage Centre and Bureau of Meteorology 2001
Published by Australian Science and Technology Heritage Centre, using the Web Academic Resource Publisher
http://www.austehc.unimelb.edu.au/fam/0539.html