Table of Contents
---
Memories of the Bureau of Meteorology

Preface

Memories of the Bureau of Meteorology 1929–1946 by Allan Cornish
Foreword
Chapter 1: My Early Days in the Bureau
Chapter 2: Some New Vistas
Chapter 3: The RAAF Measures Upper Air Temperatures
Chapter 4: The Bureau Begins to Grow
Chapter 5: My Voyage in Discovery II
Chapter 6: The Birth of the Instrument Section
Chapter 7: Darwin Days
Chapter 8: I Leave the Bureau

History of Major Meteorological Installation in Australia from 1945 to 1981 by Reg Stout

Four Years in the RAAF Meteorological Service by Keith Swan

The Bureau of Meteorology in Papua New Guinea in the 1950s by Col Glendinning


---
Index
Search
Help
Contact us

Chapter 7: Darwin Days (continued)
Eventually the canoe arrived and we put the major under guard as hostage on board the Catalina. The Captain of the Catalina and I then went ashore in the canoe where the Japanese major-general was waiting. We were not sure how to handle the surrender and after a short interchange in English we decided to adjourn discussion for the night.

The next day we resumed proceedings. There were no other Allied troops on the island which contained about 8,000 Japanese troops. We discovered there was a German priest in charge of a seminary inland who had sent a message that he would like to see us. The Japanese major-general had a Buick staff car which originally had been provided under US lend lease for the Dutch people on the island.

So we drove inland to visit the priest who was about 85 and spoke good English. He had been an internee of the British in the Boer War and a prisoner in the First World War. There were German and Dutch sisters in this seminary. He told us there was a rajah on the island and suggested that if we could contact the rajah and establish that we were in charge, we would have control of the island in about half an hour. He asked whether we had brought some symbol of authority. I suggested the staff car containing the rajah would be an ideal symbol.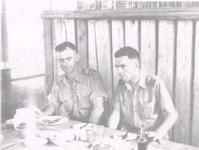 George Smallman (left) and Allan Cornish at Milne Bay, Papua, April 1943.
I recruited a Malay and taught him how to do a steering column gear change on the staff car. We then collected the rajah whom we took for a tour of the island. He was an Indonesian.
His presence in the car demonstrated our authority. We moved to his palace and stayed there for about ten days. It was an intriguing place because it contained bamboo piping which was connected to a water reservoir. There was no taps so the water ran all the time.
We supervised the collection and destruction of all the Japanese small arms. We also arranged the destruction of some Japanese six inch naval guns by ordering the Japanese to place a shell down the muzzle and another in the breech and fire the gun by remote control.
---
People in Bright Sparcs - Cornish, Allan William


Cornish, A., Stout, R., Swan, K and Glendinning, C. 1996 'Memories of the Bureau of Meteorology', Metarch Papers, No. 8 February 1996, Bureau of Meteorology

© Online Edition Australian Science and Technology Heritage Centre and Bureau of Meteorology 2001
Published by Australian Science and Technology Heritage Centre, using the Web Academic Resource Publisher
http://www.austehc.unimelb.edu.au/fam/0540.html