Table of Contents
---
Memories of the Bureau of Meteorology

Preface

Memories of the Bureau of Meteorology 1929–1946 by Allan Cornish

History of Major Meteorological Installation in Australia from 1945 to 1981 by Reg Stout

Four Years in the RAAF Meteorological Service by Keith Swan
Foreword
Enlistment in the RAAF, July 1941
Meteorological Observer Training, January-April 1942
Meteorological Observer, May-December 1942
Learning to Forecast, January-July 1943
Forecasting in Victoria, July-October 1943
Tropical Forecasting in New Guinea, October 1943-February 1945
Temperate East Coast Forecasting, February 1945-January 1946
Evaluating the Service

The Bureau of Meteorology in Papua New Guinea in the 1950s by Col Glendinning


---
Index
Search
Help
Contact us

Enlistment in the RAAF, July 1941
One of the most memorable and rewarding segments of my life was my four years in the Meteorological Section of the Royal Australian Air Force, beginning on 19 January 1942 and ending on 18 January 1946 on my discharge from the RAAF. I had already spent about six months in the RAAF before being posted to the Weather Bureau in January 1942, most of the time as a Clerk-General at No 1 Bombing and Gunnery School (BAGS) at Evans Head on the New South Wales North Coast after recruit training for five weeks at Richmond. I was recruited as a clerk after medical examination decreed that my eyesight was not up to aircrew standard. In those days most of us hoped to join our friends flying in the European theatre of war; and when I was classed as unfit to fly, I inquired what mustering would get me to Great Britain as quickly as possible. I was assured that Clerk-General would be most promising as women would soon take all of the jobs of clerks; and the qualification of typing at 20 words per minute was easily achieved.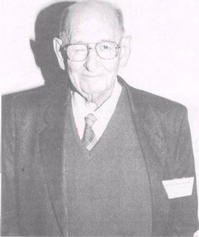 Keith Swan BEM, August 1995.
Meteorological Observer Training, January-April 1942
I enjoyed my time as a clerk in Flying Wing at No 1 BAGS, particularly the performance of confidential tasks in respect of the annual assessment of the staff pilots who flew trainee bomb-aimers and air-gunners on exercises in single-engined Fairey Battle aircraft. The assessing officer delighted in adding pencilled notes alongside some names, and the note I remember most vividly was '95 per cent ivory above the nostrils', a judgement with which I heartily concurred. I was encouraged by the officer-in-charge of Flying Wing, Squadron Leader Riding, to reapply for aircrew, but the medical judgment did not change, so I began to seek a more challenging task than clerical duties. When the Station Medical Officer had rejected me for aircrew yet again, he sent me to an ophthalmic surgeon in Lismore for checkup, and that day while I was on leave suitable personnel were invited to apply for a course at the Melbourne Weather Bureau for training as meteorological assistants. A RAAF instrument-repairer friend was good enough to draw my attention to this notice, and we both applied. That would have been about October/November 1941. I never met - - - Griffiths, a bank officer in civilian life, again, but I am convinced his help greatly influenced my life.

On 19 January 1942 I arrived at No 1 School of Technical Training in Melbourne for the course. We were quartered at the Exhibition Building, a great barn of a place where our sleeping arrangements were in cubicles separated by light three-ply walls, each containing about six beds. When lights were turned off at about 2200 hours we were expected meekly to fall asleep, but I vividly remember one occasion when the warrant officer disciplinary's heavy tread approached as we were chortling over some joke, and he gave the order 'Here! Youse metreological bastards! Illuminate your noise!'. Very fortunately his heavy receding footsteps rather drowned our suppressed laughter. Each day we would march from the Exhibition Building to the Weather Bureau for instruction in various aspects of meteorology, returning before dinner at night, after which there was opportunity for some study. It was all rather like the ordered life I had experienced in a boys' hostel as a junior high school student in 1928.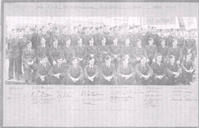 Members of Nos 3 and 4 Meteorological Assistants' Courses, Melbourne, 1942.
---
People in Bright Sparcs - Swan, Keith


Cornish, A., Stout, R., Swan, K and Glendinning, C. 1996 'Memories of the Bureau of Meteorology', Metarch Papers, No. 8 February 1996, Bureau of Meteorology

© Online Edition Australian Science and Technology Heritage Centre and Bureau of Meteorology 2001
Published by Australian Science and Technology Heritage Centre, using the Web Academic Resource Publisher
http://www.austehc.unimelb.edu.au/fam/0561.html