Table of Contents
---
War History of the Australian Meteorological Service

Foreword

Preface

Introduction

Chapter 1: D.Met.S.—Australia's Wartime Weather Service

Chapter 2: The Weather Factor in Warfare

Chapter 3: Met in the Retreat

Chapter 4: Met in the Advance

Chapter 5: Meteorology in Aviation

Chapter 6: Central Forecasting Services
General Reorganisation for War
Security and Censorship
Code and Cipher Development
National Synoptic Broadcasts
Services to Armed Forces
Services to Private Industry

Chapter 7: Met With the Army

Chapter 8: Research and Personnel Training

Chapter 9: Instrumental Development and Maintenance

Chapter 10: Scientific Developments in the RAAF Meteorological Service

Chapter 11: Divisional Bureaux and Their Work

Appendix 1: List of Reports Provided by D.Met.S. for Advances Operational Planning and Other Purposes

Appendix 2: List of Service Personnel RAAF Meteorological Service

Appendix 3: List of Civilian Personnel Who Worked Together with Service Personnel of the RAAF Meteorological Service

Appendix 4: List of Locations at which RAAF Meteorological Service Personnel Served


---
Index
Search
Help
Contact us

General Reorganisation for War (continued)
With the transfer of the organisation to the control of the Department of Air on 30 June 1940 meteorologists who volunteered for war service were granted commissioned rank in the RAAF, while other assisting personnel were enlisted as meteorological assistants or meteorological charters. The supervising meteorologist (Mr H. E. Camm) was commissioned as squadron leader and was later promoted to wing commander in 1942 in recognition of greatly increased responsibilities.

Preparations for the outbreak of war in the Pacific involved an increased demand for trained weather personnel to meet RAAF and Army requirements in the field. Early in 1941 plans were made to substitute members of the WAAAF, as far as practicable, for men employed at headquarters and other similar bases. Initially, four teleprinter operators (WAAAF) from the Directorate of Signals were remustered as meteorological charters and posted for duty with the forecasting section in Melbourne. Their work proved satisfactory and by October of the same year all teleprinter operating, coding and bulletin writing duties were allocated to WAAAF charters. Later, as training of selected personnel proceeded, RAAF meteorological assistants in the section were replaced by members of the WAAAF in similar musterings. In August 1942 the first WAAAF weather officer, in SO (later Flight Officer) Burke, commenced work in the forecasting section, to be followed by three others in February 1943, from which time WAAAF officers took over the task of duty meteorologist in the central forecasting room. Fl Lt F. Weisser was retained as senior forecasting officer and assistant to the supervising meteorologist, but otherwise all RAAF personnel had been released from the forecasting section by the end of 1943 for service in the field.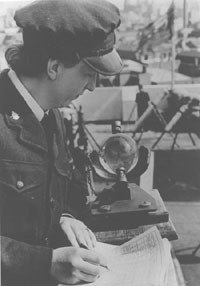 A WAAAF member of the RAAF Meteorological Service taking observations from the Headquarters roof. Australian War Memorial negative no. VIC0216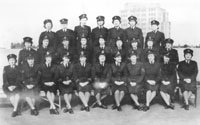 WAAAF staff at the Headquarters of the RAAF Meteorological Service, date unknown.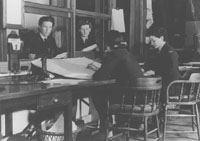 WAAAF staff working in the Headquarters, central forecasting room. Australian War Memorial negative no. VIC0207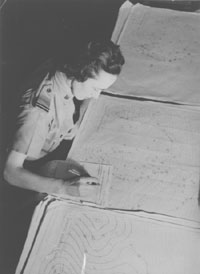 WAAAF staff working in the Headquarters, central forecasting room. Australian War Memorial negative no. VIC0227
In addition to weather forecasting duties, the senior WAAAF meteorologist was required to act as commanding officer, WAAAF, at the headquarters of the Directorate, a position successively filled by Flight Officers Burke, Carnegie and Atherton. The keenness and devotion to duty displayed by members of the WAAAF who served in the section contributed materially to the solution of staffing difficulties at operational stations. They carried out capably all the duties formerly done by RAAF personnel and undertook the arduous shift work necessary for continuous service.
---
People in Bright Sparcs - Weisser, Fred


Haldane, T. 1997 'War History of the Australian Meteorological Service in the Royal Australian Air Force April 1941 to July 1946', Metarch Papers, No. 10 October 1997, Bureau of Meteorology

© Online Edition Australian Science and Technology Heritage Centre and Bureau of Meteorology 2001
Published by Australian Science and Technology Heritage Centre, using the Web Academic Resource Publisher
http://www.austehc.unimelb.edu.au/fam/0674.html