Table of Contents
---
War History of the Australian Meteorological Service

Foreword

Preface

Introduction

Chapter 1: D.Met.S.—Australia's Wartime Weather Service

Chapter 2: The Weather Factor in Warfare

Chapter 3: Met in the Retreat

Chapter 4: Met in the Advance

Chapter 5: Meteorology in Aviation

Chapter 6: Central Forecasting Services

Chapter 7: Met With the Army

Chapter 8: Research and Personnel Training

Chapter 9: Instrumental Development and Maintenance

Chapter 10: Scientific Developments in the RAAF Meteorological Service

Chapter 11: Divisional Bureaux and Their Work
Organisation of State Bureaux on War Basis/ Additional Functions Undertaken
Communication and Censorship Problems
Operations at Sydney, Brisbane, Adelaide, Perth and Hobart

Appendix 1: List of Reports Provided by D.Met.S. for Advances Operational Planning and Other Purposes

Appendix 2: List of Service Personnel RAAF Meteorological Service

Appendix 3: List of Civilian Personnel Who Worked Together with Service Personnel of the RAAF Meteorological Service

Appendix 4: List of Locations at which RAAF Meteorological Service Personnel Served


---
Index
Search
Help
Contact us

Perth (continued)

Early in the following year, an American Army Air Force Transport Command service was inaugurated for the trans-Indian Ocean crossing, followed in June 1944 by a reorganised Qantas service using Liberator aircraft. Sqn Ldr J. (Doc) Hogan—for he had been promoted in the interim—visited Ceylon in October for a conference on Indian Ocean forecasting, and in February 1945, Fl Lt Thompson, of the Royal Air Force, commenced duty at the Perth bureau in exchange for Fl Lt R. G. Royce, who took his place in Ceylon. The exchange, incidentally, had a tragic climax in the death of FI Lt Thompson at Perth in October 1945, followed by the return of FI Lt Royce to Western Australia in the following month.

The year 1945 also marked the inauguration of forecasting by the Perth weather bureau for the Lancastrian aircraft service through Learmonth (WA) to India, but in April 1946 all meteorological services for the trans-Indian Ocean crossing from the bureau were discontinued.

Throughout the war years, close cooperation was maintained between the bureau and the Western Area military headquarters radar section, particularly in the investigation of anomalies in the propagation of radio waves caused by weather effects.

Hobart

Hobart weather bureau, with Sqn Ldr A. C. Coombes, Divisional Meteorologist, as commanding officer, maintained services to the Navy, Army and RAAF formations throughout the war.

In October 1944 Sqn Ldr Coombes died suddenly and was buried with Air Force honours in the War Cemetery at Cornelian Bay, Hobart. His place as commanding officer was temporarily assumed by Flt Lt P. T. Dale, and in December of the same year, Sqn Ldr G. W. Mackey assumed permanent charge.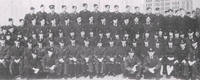 Headquarters staff 1945. From left to right are, back row, Corporal Geddes, Flight Sergeant Howard, Warrant Officer Pearce, Leading Aircraftman Moss, Corporal Hamilton, Flight Sergeant Thorne. Sergeant Allen, Leading Aircraftman Rudderford, Flight Sergeant Kelsall, Flight Sergeant O'Toole, Leading Aircraftman Parker, Sergeant Cooper, Flight Sergeant Ahearne, Corporal Press, Leading Aircraftman Holmes, Sergeant Wood, Leading Aircraftman Cope, Corporal Cordingley, Sergeant Schmidt, Corporal Prisk; second row, Sergeant Cook, Leading Aircraftman Purdie, Corporal Davie, Corporal Norman, Corporal Chalmers, Leading Aircraftman Condelli, Corporal Mobbs, Corporal Chapman, Corporal Taylor, Corporal Ahern, Corporal Baker, Leading Aircraftman Sales, Leading Aircraftman Coverdale; third row, Aircraftwoman Simpson, Corporal Musgrove, Corporal Gertler, Aircraftwoman Thomas, Sergeant Forbes, Corporal Morrison, Under Officer Sykes, Under Officer Gray, Aircraftwoman Pearce, Sergeant Napthali, Corporal Hutton, Corporal Allen, Corporal Dawson, Flight Sergeant Vance, Sergeant Richardson, Aircraftwoman Pluckeham, Corporal Steele, Aircraftwoman Stephens, Flight Sergeant McLachlan, Aircraftwoman Le Plastrisi, Corporal Duncan, Aircraftwoman Percy, Sergeant Lancet, Aircraftwoman Atherton, Warrant Officer Radich, Aircraftwoman Brenan; front row, Flight Lieutenant Allender, Flight Lieutenant Burke, Section Officer Lee, Squadron Leader Banfield, Squadron Leader W. A. Dwyer, Wing Commander Camm, Wing Commander Timcke, Group Captain H. N. Warren, Wing Commander Treloar, Squadron Leader Hogan (1896–1970), Squadron Leader L. J. Dwyer, Flight Lieutenant Elston, Flight Lieutenant Brann, Flying Officer Carnegie, Section Officer Clayton, Flight Lieutenant Weisser, Flight Lieutenant Hodgins; squatting in front, Flying Officer Hooper, Flying Officer Bradbury, Squadron Leader Forder and Flying Officer Cassidy
---
People in Bright Sparcs - Hogan, John (Doc)


Haldane, T. 1997 'War History of the Australian Meteorological Service in the Royal Australian Air Force April 1941 to July 1946', Metarch Papers, No. 10 October 1997, Bureau of Meteorology

© Online Edition Australian Science and Technology Heritage Centre and Bureau of Meteorology 2001
Published by Australian Science and Technology Heritage Centre, using the Web Academic Resource Publisher
http://www.austehc.unimelb.edu.au/fam/0722.html