Table of Contents
---
History of Research in the Bureau of Meteorology

Foreword

Preface

Introduction

Chapter 1: Germination and Growth
The First Three Decades
A Time of Rapid Growth

Chapter 2: Struggle, Competition and Emergence

Appendix 1: Meteorology Act 1906

Appendix 2: Meteorology Act 1955

Appendix 3: Simpson Report

Appendix 4: Survey Questionnaire

Appendix 5: Bibliography

References

---
Index
Search
Help
Contact us

The War Years

Three meteorologist courses had been completed by the time war was declared and civilian responsibility for the Bureau transferred to the Department of Air in July 1940. The Bureau completed the move to full military status in April 1941, becoming the RAAF Directorate of Meteorological Services under the command of Group Captain H. N. Warren, an ex-PSB Inspector from Hobart. In common with most other scientific organisations, the Bureau was hard pressed to make up the numbers of staff required to meet the needs of the RAAF and the AIF. It was therefore obliged to train some people with limited scientific skills to become forecasters. Since the RAAF made no distinction between professional and non-professional meteorologists, these people then served alongside their better qualified brethren in all offices of the RAAF Meteorological Service.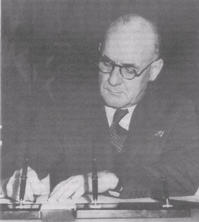 H. N. Warren, Director from 1940 until 1950, pictured here in 1947 at the IMO Conference of Directors meeting in Washington
Meanwhile, back in Central Office, Pat Squires of the Air-mass and Frontal Analysis (AMFA) Section within the Research Branch (now under the control of Harry Treloar, one of the few original Bureau staff to have a Bachelor of Science degree) continued work on the adaptation of frontal analysis to the Australian situation (Mellor [58]). By now, the Bureau was generating a much greater quantity of data with the major expansion in the number of observing offices, the majority of which carried out pilot balloon flights using theodolites. This practice continued until the limited introduction of radar in 1942 (Handcock in a personal communication), and the more widespread introduction of radiosonde in 1943 (BOM [20]).
Using this newly available information, Squires and his colleagues Henry Phillpot and Max Cassidy came to the realisation that, instead of attempting to locate cold fronts by means of spatial variation, as was the practice in the northern hemisphere, they could more effectively undertake this task in the Australian region by means of the temporal variation in each of the weather elements at a particular location (Mellor[58] and Gibbs in a personal communication). Once this system had been refined and adopted in Central Office, coded messages containing analysis information were sent to each of the forecasting offices across the country as a means of assisting local forecasters in their difficult task.
Other work carried out by Central Office staff included an extensive climatological survey of the region to Australia's north begun before the war at the behest of the Admiralty. This provided much useful information, for both daily forecasting and operational planning purposes, which had not been previously available (Mellor [58]).
---
Organisations in Australian Science at Work - Air Mass and Frontal Analysis Section (AMFA)

People in Bright Sparcs - Gibbs, William James (Bill); Phillpot, Henry Robert; Squires, Patrick; Treloar, Harry Mayne; Warren, Herbert Norman


Gardner, J. 1997 'Stormy Weather: A History of Research in the Bureau of Meteorology', Metarch Papers, No. 11 December 1997, Bureau of Meteorology

© Online Edition Australian Science and Technology Heritage Centre and Bureau of Meteorology 2001
Published by Australian Science and Technology Heritage Centre, using the Web Academic Resource Publisher
http://www.austehc.unimelb.edu.au/fam/0761.html