Table of Contents
---
History of Research in the Bureau of Meteorology

Foreword

Preface

Introduction

Chapter 1: Germination and Growth

Chapter 2: Struggle, Competition and Emergence
The Struggle for Recognition
International Involvement
Local Cooperation
The Bureau Goes Solo
Conclusion
Retrospect

Appendix 1: Meteorology Act 1906

Appendix 2: Meteorology Act 1955

Appendix 3: Simpson Report

Appendix 4: Survey Questionnaire

Appendix 5: Bibliography

References

---
Index
Search
Help
Contact us

Executive Involvement (continued)

Warren's successors, E. W. Timcke and L. J. Dwyer, both held important positions with the WMO, and under Dwyer the Bureau began its involvement in a major international research program. However, it was not until after Gibbs attained the directorship in 1962 that Australia's heavy involvement with WMO really paid off, with the approach by the WMO to have Melbourne accepted as one of the three World Meteorological Centres (WMC) and made responsible for the processing of data from this part of the globe. This and the other two Centres in Washington and Moscow are linked via the World Weather Watch's Global Telecommunication System to facilitate the rapid exchange of weather data. The World Weather Watch program was established by the WMO's Fourth Congress in April 1963 which had in turn been inspired by previous resolutions of the UN General Assembly which sought ways in which to avoid international conflict and to maximise cooperation instead (WMO [90]).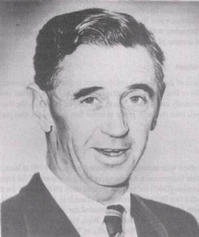 L. J. Dwyer, Director of Meteorology from 1955 until 1962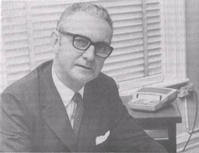 Dr W. J. Gibbs, OBE, Director of Meteorology from 1962 until 1978
The creation of the WMC in Melbourne enabled Gibbs to approach the government for the computing power necessary to undertake the data processing involved in the work of the Centre. And it would seem that whether or not this was explicit at the time, possession of computers was one of the trump cards employed by Gibbs in his push for the Bureau to become a key player in this country's research into NWP, an area which became a major bone of contention over the next two decades.
The current Director of Meteorology, Dr John Zillman, has followed the pattern set by his predecessors. He was elected to the Executive Council during the WMO's Eighth Congress and First Vice-President during the Tenth and re-elected at the Eleventh Congress held in May 1991 (Zillman in a personal communication). In 1996, Dr Zillman became the first Australian to be elected as President of the WMO, mainly in recognition of Australia's role within the Organization.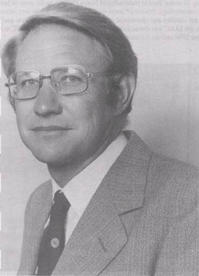 Dr J. W. Zillman AO FTSE, Director of Meteorology from 1978, pictured here in 1981
---
People in Bright Sparcs - Dwyer, Leonard Joseph; Gibbs, William James (Bill); Timcke, Edward Waldemar; Zillman, John William


Gardner, J. 1997 'Stormy Weather: A History of Research in the Bureau of Meteorology', Metarch Papers, No. 11 December 1997, Bureau of Meteorology

© Online Edition Australian Science and Technology Heritage Centre and Bureau of Meteorology 2001
Published by Australian Science and Technology Heritage Centre, using the Web Academic Resource Publisher
http://www.austehc.unimelb.edu.au/fam/0774.html